Watch The Fast and the Furious: Tokyo Drift
The Fast and the Furious: Tokyo Drift in 2006 is an action film that shows the illegal street races which take place in Tokyo. The film has plenty of action scenes with all of the action stars, and the movie is very well represented in all sorts of ways. This movie is one of the most interesting movies on the topic of racing, as the story is very well thought out. Even though Paul Walker and the other actors from the original series of the movies was not a part of this movie, Vin Diesel still joins in on the fun and adds in a bit of his great acting into the movie.
The story begins showcasing how a guy is a loner in life and in school. He ends up street racing illegally in his hometown in the United States. At the end of that specific day, he struggles in the end since him and the other guys are caught in the act of street racing illegally. He then is sent to Tokyo to be with his father who is mainly in the military. Once he arrives in Tokyo, he then discovers new ways and all kinds of extreme racing taking place in an underground world which is never seen in Tokyo.
He then joins in on the fun as he takes things to a new level and ends up struggling to find his way. He joins the different kinds of racing events that are hidden in the underground world of Tokyo. The story the continues with all sorts of characters being brought into the scene with multiple stories being brought in. The story continues further by having him lose to a big guy during one of his races which he lost, so now he owes the winner money. He joins a big time racing content to help pay off his debt.
This movie definitely is fast and furious with all sorts of stories pushed into the movie. The film is wonderfully crafted with some of the best acting, graphics, and all kinds of cool effects added into each racing scene. The story takes on some serious action as the film progresses ad shows the teen going through tough times with his races. The truth is that he knows that he needs to race to pay off his debt, so he spends a lot of his time to practice so he can win the big race. If you want to watch an entertaining racing action film, this could be the one.
Cast

Studio

Director

Justin Lin

Language

English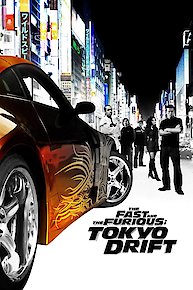 More Like
The Fast and the Furious: Tokyo Drift
The Fast and the Furious: Tokyo Drift News

Watch The Fast and the Furious: Tokyo Drift Trailer