Watch A Shot at Love with Tila Tequila Online - Full Episodes
Series Length:
2 Seasons,

25

Episodes
Schedule:
Tuesday 10:00 PM et/pt on MTV
Description:
A Shot at Love with Tila Tequila premiered on MTV on October 9, 2007. It is a reality show featuring Tila Tequila, a bisexual on a quest to find her perfect match. Sixteen heterosexual males and sixteen lesbian females were selected and brought to a Hollywood mansion to compete in various ways for Tila's affections.
The show debuted at number one in its time slot among 18-34 year olds and was MTV's second highest rated season premier for 2007. It ran for two additional seasons in 2008.
A Shot at Love with Tila Tequila was the first reality dating show to feature a main character that was not heterosexual. During the first episode, Tila's sexual preference was kept a secret until the first elimination round. After ten contestants had been eliminated, Tila revealed to the remaining contestants that she was bisexual. The remaining contestants shared the home with Tila for the rest of the competition.
Contestants competed in a variety of tasks to win coveted individual dates with Tila. At the end of each episode, Tila was required to eliminate a certain number of contestants that she did not want to pursue. The remaining contestants were presented with a token in the shape of a key and asked if they wanted to continue the competition.
At the end of the season, Tila is forced to make a choice between the final two contestants: one man and one woman. Would she choose a heterosexual male, or a bisexual woman? In the end, Tila makes the decision that is best for her.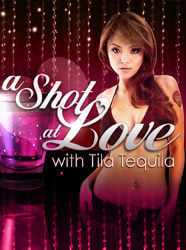 If You Like A Shot at Love with Tila Tequila, Then Try...
Most Popular A Shot at Love with Tila Tequila Episodes
A Shot at Love with Tila Tequila News
Tila Tequila, as we well know, loves her some fun and games. She recently played along with Egotastic to pull a prank on unsuspecting viewers of her explicit video. You'll have to check out the shocked reactions for yourself in the video, below. She's not as revealing in her new music video which premiered on MTV Thursday. The video, featuring her cover of the 1981 Yoko Ono song "Walking on Thin Ice," does address the sensitive subject of domestic abuse.