Watch Academy of Country Music Awards Online - Full Episodes
Series Length:
8 Seasons,

9

Episodes
Description:
The Academy of Country Music Awards is an awards show that dates back to 1966. With over five decades of history, this event rewards country music artists for the work they contributed to the genre over the previous year. Up until 2003, the show took place in Los Angeles, but it has been hosted in Las Vegas ever since. Each year, it is hosted by someone known in the country music community, whether they are an artist or a supporter. The event consists of performances by country music stars, and the handing out of several awards.
The event is based upon several big time awards. They consist of: Entertainer of the Year, Male Vocalist of the Year, Female Vocalist of the Year, and Song of the Year. In addition to these, the other notable awards are: New Female/Male Vocalist of the Year, New Artist of the Year, New Group of the Year, Album of the Year, Single Record of the Year, Video of the Year, and Vocal Event of the Year. From year to year, some of the awards will slightly change, but these are generally the ones you will frequently see.
There is also a special award that they give out at the end of every decade, and they call it the Artist of the Decade award. It is their most prestigious award, because it is handed out to country music artists that produce a high quality of work over an extended period of time. It is only been given out five times, and starting in 1969 (and every ten years after that) it has gone to Marty Robbins, Loretta Lynn, Alabama, Garth Brooks, and George Strait.
Overall, the Academy of Country Music Awards is a prestigious show that showcases its talent on a big stage.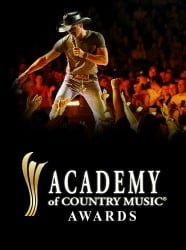 If You Like Academy of Country Music Awards, Then Try...
Most Popular Academy of Country Music Awards Episodes
Academy of Country Music Awards News
An Indiana judge has declared country duo Sugarland won't escape depositions in multiple lawsuits stemming from last August's deadly stage collapse, reports the Associated Press. Marion Superior Court Judge Theodore Sosin on Friday rejected a timetable proposed by Mid-America Sound Corp. that could've had Jennifer Nettles and Kristian Bush awaiting testimony as soon as Monday.