Watch Aishiteruze Baby
Aishiteruze Baby is an anime show, or Japanese animation, that was based off of a manga, also known as a Japanese comic, of the same name. The show revolves around the main character, Kippei, and his young cousin, Yuzuyu. Kippei is an adventurous seventeen year old with very few cares. He is extremely popular and is known to flirt with many different girls. However, Kippei's life changes when his aunt, Yuzuyu's mother, abandons Yuzuyu at Kippei's house. It is quickly decided that Kippei will be the one to care for Yuzuyu, who is only five years old.
In a short period of time, Kippei realizes that he must grow up and become responsible in order to care for Yuzuyu. He helps her face different problems and tries to be the best replacement mother possible. As Kippei learns to care for his cousin, he also starts to see other people differently. Most importantly, Kippei realizes that one of his classmates, a shy girl named Kokoro, is someone he would like to get to know better. Kokoro helps Kippei and as he comes to know her better, he realizes that he may be falling for her. He also realizes that Kokoro is as lonely as Yuzuyu.
In each episode of the show, Kippei struggles to properly care for Yuzuyu while at the same time remaining a normal high school student. Viewers will be able to enjoy the drama and romance of the show. In addition, the character's true stories evolve and grow deeper over the course of the series.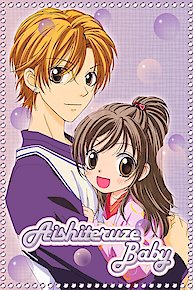 Aishiteruze Baby

Full Episode Guide
Episode

26

-

I love everyone, everyone!

Kokoro and Yu are still in the sandbox as they were in the last episode. Kokoro cheers Yu up. Kippei's family finally meets Kokoro and invites her to stay the night with them. Kippei's sister meets with Yu's mother. Kippei gives Yu her pajamas back all fixed up. Yu's mom and Kippei's sister talk about Yu and the problem with her pajamas. Yu's mom talks about the past and then Kippei's sister leaves for home. Kippei, Yu, and Kokoro sleep together.

Episode

25

-

Mama's pajamas

Yu has a dream and realizes she doesn't remember what her mother's face looks like and starts to miss her mother. Kippei accidentally tears Yu's pajamas, which were made by her mother. Kokoro and Yu spend some time alone with each other. Kippei's sister flies away from home.

Episode

24

-

A letter to the one you love

Yu's letter cheers Kippei up and Kippei decides to write a letter to Kokoro so she can feel his feelings more. Kokoro doesn't show up at school the next day, and some of her past with her mother is shown.

Episode

23

-

Two box lunches

Kippei makes two box lunches, one for Yu and one for Kokoro. Kokoro gives her homemade lunch to Kippei in return for him making one for her. During eating she gets a phone call that depresses her. Marika gets picked on by one of her friends at class but Yu tells her she's still her friend and that she likes her. Kokoro tells Kippei she doesn't want to get any closer to him.

Episode

22

-

When I grow up

Episode

21

-

At summer's end...

Episode

20

-

Let's go home

Episode

19

-

Let's walk in a line

Episode

18

-

Miki-chan with the red hair

Episode

17

-

It's a pool, it's a bathing suit, it'...

Episode

16

-

Shou-chan, see you later...

Episode

15

-

Onee-sama goes to Parents' Day!

Episode

14

-

Shouta-kun from the Sakura Class

Episode

12

-

Yuzu's Errand

Episode

11

-

Dumplings, Yuzuyu, and Kokoro

Episode

9

-

Kokoro All Alone

Episode

8

-

Mr. Bear and Carrots and Papa and Mam...

Episode

7

-

One, Two! Pudding!

Episode

6

-

Bye-Bye Yellow Hat

Episode

5

-

The Reason for Her Tears

Episode

4

-

Yuzu's Crayon

Episode

2

-

Yuzu's Onigiri

Episode

1

-

She (Yuzu) is 5 Years Old!
If You Like Aishiteruze Baby, Then Try...