Watch Alaska: The Last Frontier
Discovery Channel's Alaska: The Last Frontier follows the Kilcher family. The family, relatives of the famed singer Jewel, struggle to survive off of the grid in Alaska's unforgiving wilderness, just like past generations of their family have done. The show highlights just how hard living in Alaska is for individuals striving to be as self sufficient as possible.
Alaska: The Last Frontier is set on the Kilcher family's 600 acres of property located just out side of Homer, Alaska. The first of the family to settle the homestead was Yule Kilcher and his wife Ruth, around 80 years ago. Yule has since passed on, but his way of life is continued on and celebrated by the next two generations, Otto Kilcher and his brother Atz (Jewel's father) and Otto's two sons Atz Lee and Eivin. The family is helped along in their quest to thrive and survive in Alaska by their significant others as well. The other people living in the Kilcher household include Otto's wife Charlotte, Atz's girlfriend Bonnie Dupree, Atz Lee's wife Jane and Eivin's wife Eve, all of whom share a deep love for the land and a need to feel connected to nature and one another.
The Kilcher's face many struggles in their every day lives that individuals in the lower 48 never have to deal with. One of the family's main struggles is to make sure that they have enough food to support everyone through the harsh winter months. The family achieves this goal by hunting for bear, fishing the many streams in the area and also raising cattle. In addition, the family has also built a greenhouse in order to take better advantage of the short growing season that is available to those living in Alaska.
Each spring and summer is a struggle for the Kilcher's as they try to get enough wood to heat their homes and enough food to fill their bellies for the long winter that awaits them every year. Despite all their trials though, the Kilcher's couldn't imagine making their homes anywhere else.
Tuesday 9:00 PM et/pt on

Discovery Channel

6 Seasons,

87

Episodes - Currently Airing

December 29, 2011

Action & Adventure

,

Family

10

/
Watch Full Episodes of Alaska: The Last Frontier

Season 6, Episode 8
The Prodigal Daughte... (41:00)
Season 6, Episode 7
Kilchergiving (41:52)
Season 6, Episode 6
One Man Short (41:51)
Season 6, Episode 5
Under The Knife (42:52)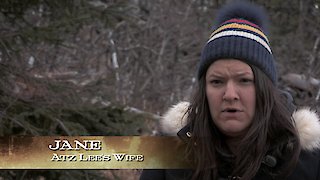 Season 6, Episode 4
Killer Repairs (42:51)
Season 6, Episode 3
Stranded (42:52)

Watch Episodes
Clips & Extras
Alaska: The Last Frontier

Full Episode Guide
Episode

100

-

Thanksgiving 2016

The Kilchers honor Thanksgiving on the homestead once again, and reveal stories of the dishes they will be enjoying in this 3-hour long special episode.

Episode

9

-

The Monster Catch

Jewel comes back to the homestead with her son and rides out to help a neighbor. Meanwhile, the Kilcher boys try to salvage Shane's cabin; and Atz Lee and Jane examine clues of a bear.

Episode

8

-

The Prodigal Daughter Returns

Otto puts his recovery in jeopardy to help rescue a paralyzed cow; Jane and Atz Lee place their differences aside to get ready for winter; Atz Senior prepares for a very significant visitor: his daughter and singer-songwriter, Jewel.

Episode

7

-

Kilchergiving

The Kilchers come together for a Thanksgiving feast at the old family barn and give thanks to friends and family that came to their aid in the past year.

Episode

6

-

One Man Short

With Otto recovering from an operation, Levi travels to Alaska to head the yearly spring cattle drive with Eivin; Otto's unwillingness to step down puts him in danger.

Episode

5

-

Under The Knife

After years of putting it off, Otto goes under the knife; Jane must handle the farm and deliver her first calf by herself; Eivin and Atz Lee investigate the Head of the Bay, but their findings won't calm Otto's concerns.

Episode

4

-

Killer Repairs

The Kilchers hurry to make headway on time sensitive activities; Otto, Charlotte, and Eivin go on a journey to save a family relic; the first fishing outing of the year leaves Eve and Jane lost at sea.

Mother Nature moves forward with her onslaught on the Kilcher homestead; Otto, Charlotte, Jane, Bonnie and August rush to save a hay barn; Atz Lee and Sr. start constructing Atz Lee's new cabin.

Episode

2

-

Shattered Shelter

Mother Nature continues to wreak havoc on the Kilcher homestead. Otto, Charlotte, Jane, Bonnie, and August scramble to save a hay barn.

Episode

1

-

The Great Kilcher Quake

Southern Alaska is struck by an earthquake and the Kilcher's battle to clear access to their roads. Elsewhere, Atz Lee parts with his family to repair his new homestead.
Season
5
18 full episodes, 1 clip available
Episode

19

-

Truth Be Told

The most memorable scenes of the show with never before seen footage; viewer questions are answered.

Episode

18

-

The Lost Episode

A review of Atz Lee's proposal to Jane and wedding plans for the Kilchers.

Episode

17

-

The Last Straw

Otto receives an unnerving house call, and the prognosis is grim. Atz Lee's return to the Hunter's Cabin is rudely interrupted, so he seeks help from a veteran homesteader. The Kilchers join forces to protect Shane's cabin from winter's fury.

As winter gets closer, the Kilchers hunt to have enough food stored. In addition, Otto and Charlotte take the cattle down a dangerous road; while work Shane's cabin remains unfinished.

Episode

15

-

New Beginnings

Tension rises with Otto and Charlotte when the try to build a staircase; Eiven and Eve bring home the newest member of the family.

Episode

14

-

Recovery Road

Atz Lee encounters the verity of recovery; Eivin and Jane look for huge halibut; Eve and Otto work quickly to finish the fall harvest.

Episode

13

-

Cycle of Life

Episode

12

-

A Very Kilcher Christmas

The Kilchers celebrate the holidays by making homemade presents for the people they love. Charlotte is shocked by Otto's explosive gift. Jane provides something musical for Atz Lee. Eivin puts together a multi-use vehicle for Eve and Findlay.

Episode

11

-

Hard Road Home

Family and friends put up with unforeseen troubles. Including: Otto and Charlotte's critical rescue operation to Halibut Cove causing problems on the seas; and Atz Sr., Eivin, Shane and Nikos unite to assist Atz Lee.

The Kilchers get ready for winter; Eivin takes on dangerous peaks to obtain enough food for winter; Otto helps Shane construct the cabin; disaster hits for Atz Lee.

Episode

9

-

No Rain, Big Pain

An over heated summer poses a threat to the Kilcher cattle; Atz Lee combines forces with a homesteading pro to learn how to control the frontier; Jane meets up with a bear; Shane and Kelli continue to improve their cabin; and Findlay gets a secure play place.

Episode

8

-

Olden Days, Olden Ways

The Kilchers honor the family's patriarch and matriarch, Yule and Ruth, by putting together a banquet using only old-fashioned methods.

Episode

7

-

Homestead Hardships

The challenges of living on the remote and rugged Kilcher homestead are sometimes unforgiving. Life in this raw, untamed wilderness means keeping your family close and your firearms closer.

Episode

6

-

One Small Flush for Man

As spring draws to a close, Otto and August dig into a monumental plumbing project. Included: Eivin attempts to help, but loses control of his truck; Atz Sr. searches for two predators threatening the Kilcher property; Atz Lee and Jane give Shane a hand with his cabin.

Episode

5

-

Mobility, Mo' Problems

The Kilchers get ready for summer on the homestead; Atz Lee learns a lot about wilderness survival; Jane battles for food; Otto and Eivin attempt to make their own suana.

Episode

4

-

Calling All Bears

The homestead is desperate for a little TLC. Atz Sr. hunts to restock dwindling food supplies; Otto, Charlotte and August try to protect livestock; Atz Lee develops a new foothold.

Episode

3

-

Fear and Floating

Spring comes to the homestead: Atz and Atz Lee try to subdue wild horses by the bay; Otto, Eivin, Charlotte and Jane have to find a way to protect their calves and herd.

Episode

2

-

Blood, Sweat & Beers

The Kilchers try to take care of the land after unusually warm temperatures. Otto and Eivin attempt to transform the raw wilderness into a future food source.
Season
4
21 full episodes, 6 clips available
Season
3
17 full episodes, 12 clips available
Season
1
13 full episodes, 5 clips available
If You Like Alaska: The Last Frontier, Then Try...
Most Popular Alaska: The Last Frontier Episodes
Season 6 Episode 8

The Prodigal Daughter Returns

11/27/2016

Season 6 Episode 4

Killer Repairs

10/30/2016

Season 6 Episode 2

Shattered Shelter

10/16/2016

Season 6 Episode 1

The Great Kilcher Quake

10/16/2016

Season 5 Episode 2

Blood, Sweat & Beers

10/11/2015
Alaska: The Last Frontier Video Clips & Extras
Gross Side of the Homestead
Clip (02:56)
Covered Wagon Honeymoon Suite
Clip (02:16)
Picking Apples On an Alaskan Homestead
Clip (01:37)
Eve Kilcher Goes Into Labor
Clip (01:12)