Watch American Misfits
American Misfits is the American remake of the famous and highly watched British television series Misfits. In this action packed skateboarding comedy, you watch as anti-stars Laban Pheidias and Ted Newsome try to deal with the crazy quirky antics of the crazy trouble stirring Boss who is played by Jay Johnston. You follow the crazy duo as they deal with funny plotted schemes, while also dealing with the idiotic mishaps of the trouble causing Boss.
This show is laugh out loud funny and will leave you wanting more, as you watch normal situations transformed to out of this world proportions. This show takes a normal business meeting and turns it into a humongous mess mixed with weird abnormalities, loony antics, and wacky pranks. This show is packed with funny story lines and jaw dropping skateboarding skills. Their casts consist of actor's Laban Pheidias as himself, Jason 'Wee Man' Acuna as himself, Bobby lee as The General, Paul Christensen as Paul the guy, Jeff king as kingdog, Ted Newsome as himself, and finally Adam Spring as himself.
This television show has a hilarious cast that will leave you laughing until you cry. The show also centers around a lot of amazing skateboarding that will leave you wanting more. It is great to know that Americans will have there own crazier version of the British misfits. The show features various loony skits, skate boarding and many surprises in between. The cast is Funny and witty and the schemes will surprise you. The American Misfits is one of the craziest shows on television and will leave you wanting more.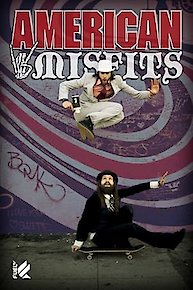 American Misfits

Full Episode Guide
Episode

8

-

The Last Lucky Lobsters

The grand finalé of American Misfits season three, the Quest for Gnar.

Episode

7

-

The Return of Notorious Nate

Episode

6

-

Go Up Fighting

The American Misfits crew skates a dirty ditch in Columbia, SC with local ripper Trip Taylor and a toxic goat man.

Episode

5

-

Southern Hospitality

The American Misfits arrive in Birmingham, AL and hit up Ted's favorite childhood spot, the ghetto banks.

Episode

4

-

Storm Chasers

Episode

1

-

The Quest Begins
Episode

13

-

Magic Skate Serum

Episode

12

-

Nudist Network

Episode

11

-

Happy Endings

Episode

10

-

Medieval Times

Episode

9

-

Spontaneous Combustion

Episode

2

-

3 Eyed Dog Boy

Episode

1

-

Molasses Monster
If You Like American Misfits, Then Try...