Watch Andrew Zimmern's Bizarre World
Andrew Zimmern is known by most fans as the man with the stomach of steel on Bizarre Foods. Andrew enjoys exploring the fringes of cultural food. He believes sharing a meal with locals, a family or a tribe grants the traveler a unique opportunity to better understand different people. Andrew's exploration continues with his new show, Andrew Zimmern's Bizarre World, his passion for other cultures is taken to the extreme. Andrew dives face-first into the most unusual and unexpected traditions from around the globe, traveling to Belize, Cuba, Kalahari, South Africa, Sulawesi, Bali, Germany, Florida and Wisconsin.
Tuesday 10:00 PM et/pt on Travel Channel

1 Season,

9

Episodes - Canceled/Ended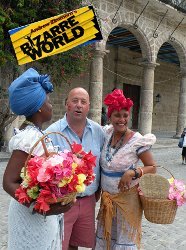 Andrew Zimmern's Bizarre World Video Clips & Extras
Andrew Zimmern's Bizarre World

Full Episode Guide
Season 1
(2 clips available)
Andrew eats his way through Wisconsin, the land of cheese and brats.

Andrew finds out that Florida is a land full of oddities with enclaves of everything from sponge divers and frog giggers to mermaids and drag racers.

Andrew stops in the Indonesian island of Bali, where he participates in a cricket-fighting match, learns the art of Mepantigan, witnesses a tooth-filing ceremony for adolescents and eats a ceremonial meal that includes raw pig's blood.

Andrew travels to picturesque Sulawesi, a part of Indonesia where the funeral rituals are elaborate ancient customs still deeply rooted in the rich and colorful community of Tana Toraja. Andrew experiences an authentic Torajan funeral as a pallbearer.
If You Like Andrew Zimmern's Bizarre World, Then Try...