Watch Ask This Old House
Ask This Old House is a how-to series created by Russell Morash. The series was inspired by a section of This Old House Magazine, and was created in 2002. The series empowers home owners by giving them the knowledge to perform home updates and enhancement projects without hiring a contractor.
Viewers of Ask This Old House send in how-to questions or concerns regarding home improvement projects. Expert carpenters, builders, design artists, and landscapers answer these viewer and reader questions on the show. After discussing the viewers question, experts demonstrate how to complete the projects. This award-winning series showcases the talents of O'Connor, Tom Silva, Richard Trethewey and Roger Cook. These experts also call in more specialized help for rare problems and unique project dilemmas.
The show is set in Boston, and takes place in a rustic barn. Many viewer questions can be answered while sitting in the cozy barn, but some project demonstrations do take the team out of the barn and into homes of lucky show participants. To complete some projects, the team of experts goes into the home, and completes the projects with help from the home owner.
Viewers also enjoy the show's weekly installments of "What Is It?", and "Useful Tip". In "What Is It?", show hosts are presented with an unknown tool and asked to guess what it is normally used for. During "Useful Tip", viewers are showcased as they read or show a useful tip they use in home improvement projects.
14 Seasons,

333

Episodes - Returning Series

October 10, 2002

10

/
Watch Full Episodes of Ask This Old House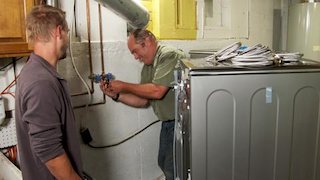 Season 15, Episode 8
Laundry, 3-Way Switc... (23:43)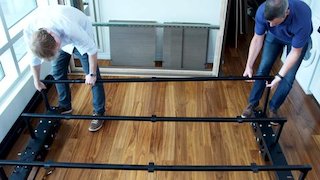 Season 15, Episode 7
Reclaimed Beach, Rob... (23:43)
Season 15, Episode 6
HVAC Zoning; Plaster... (23:43)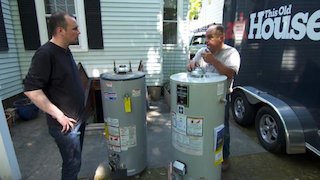 Season 15, Episode 5
Water Heater, Home O... (23:43)
Season 15, Episode 3
Bookshelf, Foundatio... (23:43)
Season 15, Episode 2
Fire Prevention, Str... (23:43)

Ask This Old House

Full Episode Guide
Season
15
7 full episodes
Episode

10

-

Wood shop, wireless switch

A woodworking shop is set up in a garage; and a wireless light switch is connected. Also: plumbing's memory lane.

Episode

9

-

Microgreens, wheelchair lift

Kevin helps a contractor install a home elevator for a young man with disabilities. Jenn Nawada investigates how to grow microgreens. Tom explains the best way to match historic moldings. And Richard diagnoses a problem with well water.

Episode

8

-

Laundry, 3-Way Switch, Saw

An efficient washer and dryer is chosen; and an issue with a three-way switch is fixed. Also: ideas for table saw safety.

Episode

7

-

Reclaimed Beach, Robotic Wall

A robotic wall is utilized to furnish a micro-apartment; and a reclaimed piece of pine is transformed into an attractive bench.

Episode

6

-

HVAC Zoning; Plaster Patch

An HVAC innovator displays a new technology that could alter the way houses are heated and cooled. Also utilizing plaster to patch drywall.

Episode

5

-

Water Heater, Home Orchard

A tank water heater is changed out with a more efficient one; and a backyard orchard is started. Also: ideas for circular saws.

Episode

4

-

Molding Raceway, Deck Board

A fractured deck board on a front porch is replaced; and crown molding is utilized to conceal wires during an outlet install. Also: An inquiry about blue stains in the bathtub is answered.

Episode

3

-

Bookshelf, Foundation Plants

A bookshelf is made using stair treads and a few tools; and wild foundation plantings are converted into an enviable front garden.

Episode

2

-

Fire Prevention, Strainer

Analyzing fire hazards in homes and how to prevent them. Also: an old kitchen sink strainer is replaced.

Episode

1

-

Window, Robotic Mower, Lead

An old window is fixed; and a robotic lawnmower is featured. Also: Talking about lead in drinking water.
Season
14
26 full episodes
Episode

100

-

Home Energy Special

Richard and Kevin investigate Germany's energy efficiency. Wind turbine installation in TX

Episode

26

-

Doorbell, Home Gym, Pipes

In the Season 14 finale, a home gym is assembled for a wounded Navy SEAL; and a bad doorbell is fixed. Also: the important roles that 22 and 45 play under the sink.

Episode

25

-

Murphy Door; House Hydrant

A bookshelf is transformed into a secret door; and an outdoor house hydrant is connected. Also: the two tools utilized for the majority of electrical work.

Episode

24

-

Nick Offerman; Pipe Shelf

Nick Offerman stops by. In addition: making a steel pipe shelf; and putting together a pond-less waterfall.

Episode

23

-

Deck Lighting, Fireplaces

Festive lighting is added to a deck; and fireplace options are talked about. Also: the best tools for new gardeners.

Episode

22

-

Short Door; Grow Herbs

Fixing an antique door; and growing edible herbs inside. Also: vanishing toilet water.

Episode

21

-

Washer/Dryer; Chandelier

A washer and dryer are hooked up; and a chandelier is installed in a dining room. Also: how to use a power driver.

Episode

20

-

The plan for the living-dining room i...

An Idaho potato farm is visited. Also: home weather stations; and track lighting.

Episode

19

-

Wildlife Garden; Floor Patch

A wildlife wellspring is created in a front yard. Also: making a wood floor patch appear seamless; and unclogging a sink.

Episode

18

-

Overflow; Antique Fixture

A light fixture that mimics a 19th-century home's history is installed. In addition: an overflow drain for a baby's bath; and insulation R-value.

Episode

17

-

Chimney, Exhaust Fan, Shingle

A chimney gutted; the installation of an exhaust fan in a kitchen; and tips on roof shingles.

Episode

16

-

Maple Syrup, Chicken Coop, USB

Learn how to make maple syrup. Also: a backyard chicken coop is made; and the value of USB outlets is talked about.

Episode

15

-

Philly Sconce, Trim Closet

A closet is improved with a coat rack, shelves and a new door; the cause of a leaky toilet is discovered; and a wiggly sconce is replaced at a house that used to be a church.

Episode

14

-

Smart Lock; Outdoor TV

An entryway door deadbolt is switched for a smart lock controlled by Bluetooth; and a weather-resistant television is installed on a porch.

Episode

13

-

Kitchen Makeover; Attic Stair

A new attic staircase is set up; and an out-of-date kitchen is given an elegant new look. Also: the finest blowtorches.

Episode

12

-

Post Light; Pedestal Sink

A pedestal sink is switched out; a new outdoor switch and post light are put in; and favorite plants are made into artwork.

Episode

11

-

Coffee Table; Grass Paver

Using old oak to make a coffee table; lawn you can drive on; keeping your pipes from freezing.

Episode

10

-

Winter Weather Special

Featuring: an electrical answer to ice dams; Jim Cantore, the meteorologist; caring for your snowblower; and checking in on the furnace.

Episode

9

-

Childproofing; Falling Sink

Childproofing a house for a new mother; and fixing a sink. In addition: a review of voltage testers.

Episode

8

-

Home Brew Beer; Rain Barrel

Bridget Lancaster talks about home brewing. In addition: a Do-it-yourself project for only $40 helps conserve water; and advice for avoiding holiday disposal trouble.

Episode

7

-

Butterfly Garden; Dark Closet

A butterfly garden is made; and a dark closet is lightened. In addition: tools every woodworker should own.

Episode

6

-

Sink Mistake; Security Light

Richard travels to Atlanta to replace a vessel sink with a self-rimming sink. Scott installs a motion sensor security light in a driveway. And the guys ask "What is it?"

Episode

5

-

Home Composting, Steam Boiler

How to create soil from organic garbage. Also: why a steam boiler is losing water.

Episode

4

-

Renewable Energy

Energy efficiency is explored during a visit to Germany. Also: installing a residential wind turbine in Texas.

Episode

3

-

Driveway, Shaker Table

Episode

2

-

Chainsaw, Wire Garage

How to electrically wire a detached garage.

Episode

1

-

Classroom Garden, House Fan

How to install house fans, and help with a school's garden.
If You Like Ask This Old House, Then Try...
Most Popular Ask This Old House Episodes
Season 15 Episode 8

Laundry, 3-Way Switch, Saw

11/19/2016

Season 15 Episode 5

Water Heater, Home Orchard

10/29/2016

Season 14 Episode 8

Home Brew Beer; Rain Barrel

11/21/2015