Watch Athena: Goddess of War
Athena: Goddess of War is a dramatic television series that focuses on the life of a spy. The series centers around the introduction of a nuclear program in South Korea. The government is attempting to launch the program, but one of the country's primary scientists has refused to help and is trying to leave the country. Dr. Kwon is the South Korean spy who has been tasked with tracking the scientist down.
Dr. Kwon was successful in his mission and now is leading the country's counter-terrorism task force. Dr. Kwon also faces difficulty from a rival who is now working with an American spy agency. There are many double agents and cross dealings back and forth.
Dr. Kwon's rival is ruthless and he ends up having the President's daughter kidnapped. The goal of kidnapping the President's daughter is to use her so the President will hand over the nuclear scientist in exchange for his daughter's life. The spies fake Dr. Kim's death in an attempt to get Dr. Kwon's rival to release the President's daughter, but his plans fall through. The spies then fake a hostage situation which also fails to work, and the scientist is killed.
Before he died, it is discovered that the nuclear scientist performed a lot of work on the secret government project. There are many dramatic back-and-forths between the two rival agencies. One spy from the counter-terrorism task force falls in love with another spy from the rival agency and their relationship tends to complicate things. The rogue agency ends up infiltrating the counter-terrorism unit and killing many agents. The female agent who was in love with the male agent attempts to kill herself because she is so embarrassed at betraying her countrymen. However, her life is saved and she is granted amnesty and leaves the country. After the battle has ended, her male lover decides to track her down. The couple reunites in New Zealand and they end up living happily ever after.
Mondays, Thursdays at 9:55 pm et/pt on DramaFever

1 Season,

23

Episodes - Canceled

December 13, 2010

10

/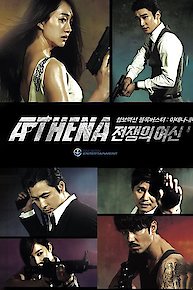 Athena: Goddess of War

Full Episode Guide
Episode

21

-

Special Episode

This behind the scenes episode has interview with the cast and an insider look at how the stunts are done.

Jung Woo and Son Hyuk have a final showdown.
If You Like Athena: Goddess of War, Then Try...