Watch Bank of Hollywood
Bank of Hollywood is a new Ryan Seacrest-produced, one-hour reality competition. Celebrities are donating money to everyday Americans on Bank of Hollywood. Contestants approach a panel of celebrity judges and present them with a pitch as to why they deserve their money. The donation requests range from people seeking money for charity and others asking for money to buy an engagement ring.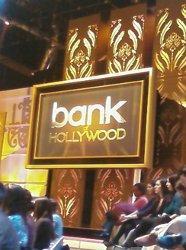 Bank of Hollywood

Full Episode Guide
Episode 8 - Harleys, Hunks, and Heavy-Lifting

A Harley man asks the panel for money, a soap actress is impressed with a soap actor, and a grandma lifts weights.

Episode 7 - Pirates, Paris and Parents-to-be

On this episode of Bank of Hollywood the panel is approached with a Paris Hilton impersonator and gay couple that wants kids.

Episode 6 - Tattoos, Tacklers and Tree House Dwe...

Episode 5 - Mullets, Models and Muppets

A woman looks to have her tattoos removed; an all-female football team; and a man who lives in a treehouse in his parents' backyard.

Episode 4 - Sashes, Soul Food and Smiles

Episode 3 - Gold Digger, Goal Seeker and Rock and...

Episode 2 - Dancers, Determination and a Driving ...

Episode 1 - Boy Wonder, Balloon Maker and a Big R...
If You Like Bank of Hollywood, Then Try...