Watch Barney & Friends
Barney and Friends is a children's television show featuring Barney, the purple dinosaur. There are a few other characters on the show as well, such as Baby Bop, a green girl dinosaur. There is also BJ, who is a yellow dino. They are all of different personalities, and are there to help teach our children. I have a boy and girl, who both grew up loving the show.
They offer up fun lessons on how to be kind and courteous to others. They teach manners, how to have fun, and still be polite. The show is usually based on Barney and a group of kids. They learn something new every episode. Perhaps, how to get help if someone is in trouble. Who to call? Police, Fire or simply 911? Many very educating opportunities for our kids.
There was all the heartless chatter about Barney being gay. Wow, folks, this is a children's TV show, did we really have to go there? Even if he were gay, does it really matter? If he is giving our kids good educational lessons, on how to be a good person? I think this may have evolved from men offended their little boys were watching a purple dinosaur. Really guys? Grow up!
On the show, they often learn about other places, and cultures and how people live. Maybe what they wear, what their homes might look like, and even what kinds of foods they might eat. This is my favorite part, because I love travel. It is so educational on many different levels.
They sing fun songs and dance. The kids learn about nutrition and food, manners and how to share and get along with others. There are a couple of very popular songs, one of them was the opening song, 'I love you', and then there was the ever popular song of the show, 'wheels on the bus'. Both my children absolutely loved, 'the wheels on the bus' song, because it had motions to go with it. Barney made it fun.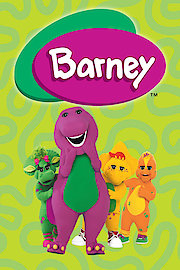 Barney & Friends

Full Episode Guide
Episode 20 - My Friend the Dentist

Barney and friends learn about losing baby teeth.

Episode 19 - On The Road Again

Barney and friends are out on the road again!

Episode 16 - Look What I Can Do

The children play "I Can Do," in which each one shares something he or she can do; Baby Bop worries about trying something new.

Episode 11 - I'm a Builder

Barney and Friends become builders!

Episode 5 - Let Your Creativity Fly

Episode 2 - Caring Hearts
Episode 17 - It's A Happy Day
Season 1
(5 clips available)
If You Like Barney & Friends, Then Try...
Most Popular Barney & Friends Episodes
Barney & Friends News
Son of 'Barney' Creator Arrested for Attempted Murder
Someone clearly did not take Barney's message of loving thy neighbor to heart. Patrick Leach, the son of the co-creator of "Barney and Friends" Sheryl Leach, has been arrested for attempted murder. Former schoolteacher Sheryl may have been inspired to create the happy, purple dinosaur in the late 1980's by Leach's childish love of the extinct animals, but apparently Leach has outgrown that innocent stage of life at 27. He was arrested Wednesday after shooting a neighbor in the chest over trespassing issues.