Watch Bathtastic!
This DIY bathroom remodeling show debuted on February 1 of 2009, starring Matt Muenster, licensed contractor, and bathroom specialist. He shows viewers how to revitalize and transform one of the home's most necessary rooms, going from boring, or non-functional, to fantastic.
He uses the very latest in design procedures and bathroom merchandise in each of his make-overs. Very thorough, he proceeds through all necessary steps, in a way that the greenest novice can follow. He works with bathrooms of all sizes, vintages, and designs, providing simple and comprehensive instructions. His imagination, talent, and ability to work within various budgets is truly useful and admirable.
Muenster demonstrates what folks can do with their bathrooms within a short time and some hard work, in this original DIY series, now airing on HGTV, with five seasons in total. Possibilities shown by Muenster are limited pretty much by imagination, and of course, budgetary constraints, both very useful information.
In the first episode of the fifth season, Muenster presents viewers with the ten best bathroom transformations as depicted on his show, from the out and out disgusting to the luxurious and sublime. He ranks them in order, leading up to the very top bathtastic bathroom!
For example, in the twelfth episode of the fifth season, he works with Janessa and Lauren, whose bathroom is clearly stuck in a 1970's time warp. He finds he must tear it down entirely, in order to preserve the room, because the bathroom is clearly in such sad shape, it's barely functional. Finally, when rebuilt, viewers behold a refurbished restroom with onyx counters, and a two-person shower, and custom, luxurious vanity. This particular episode is just an example of the types of viewing available to audiences to take the time to see all five seasons.
Weekdays 8:30 PM et/pt on DIY Network

5 Seasons,

62

Episodes - Returning Series

December 31, 1969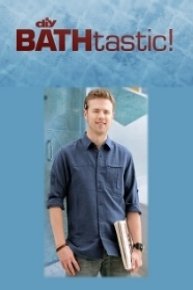 Bathtastic!

Full Episode Guide
Episode

10

-

Nod to Tradition

First time homeowners Josh and Jennifer want to add a master bathroom to the top level of their converted duplex. Matt helps them create a bathroom from scratch with cork flooring, a new claw foot tub and a candlelit fireplace.

Episode

9

-

Something from Nothing

John and Marcy's Victorian is a beautiful home, with a horrendous bathroom. Matt steps in to face the challenge of staying true to the era of the house while bringing in some contemporary features.

Episode

8

-

Of Nerves and Nature

Anxiety riddled homeowner Sherry, gets renovation reassurance from Matt Muenster. Together, they transform her oversized suburban bath into a lush, modern spa retreat with nature inspired finishes.

Episode

7

-

Turkish Delight

Betsy & Ishtiaq are stuck with a bathroom laden with dated decor, fixtures that are far too low and a serious mold crisis in the shower. After getting rid of all that's gross, Matt designs a relaxing space Turkish spa.

Episode

6

-

Coming up Roses

Episode

2

-

Most Outrageous Products
Episode

13

-

Rustic Retreat

Episode

12

-

Cheap to Chic

Episode

11

-

Cocktails in the Crapper

Episode

7

-

Brick Bye Brick

Episode

6

-

Bathroom Trip

Episode

4

-

The Pink Bomb

Episode

3

-

Homecoming Surprise

Episode

2

-

Downstairs Dungeon

Episode

1

-

Blue-B-Gone Bathroom