Watch BCS National Championship
The nationally televised BCS National Championship Game was the final game in the Bowl Championship Series, determining the year's college football champions of Division 1 Football Bowl Subdivision. The top ten college football teams of a particular year were selected to go head-to-head in four games with the top two meeting in a final fifth game to determine the year's ultimate national champion. There was a particular method of selecting the teams that competed in this final bowl game. This particular method was concise, trusted and respected. Nevertheless, the selection has often been followed by some controversy. In 2003 the controversy about the selected teams was so great that the national championship was split into the BCS and AP (Associated Press) championship games. This was the only year this divided championship occurred.
As of 2013, the BCS is ended. It is in 2014 being replaced by the College Football Playoff.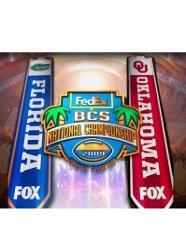 BCS National Championship

Full Episode Guide
Episode 1 - FedEx National Championship Game (Okl...

In a battle for college football's ultimate prize, the 2nd-ranked Florida Gators (12-1, 7-1 SEC) take on Heisman Trophy-winning quarterback Sam Bradford and the No. 1 Oklahoma Sooners (12-1, 7-1 Big 12) at Dolphin Stadium in Miami, FL.
Episode 1 - National Championship: Ohio State vs....

In a battle for college football's ultimate prize, the Ohio State Buckeyes (11-1, 7-1 BIG 10) return to the Allstate National Championship Game for the second consecutive year to play against the Louisiana State Tigers (11-2, 7-1 SEC).
If You Like BCS National Championship, Then Try...
BCS National Championship News
Penn State Coach Joe Paterno Dies at 85: How Will You Remember Him?
After easily the most publicly tumultuous year of his life, Penn State coaching legend Joe Paterno has passed away at the age of 85. Paterno's family revealed that he had lung cancer back in November, and Paterno lost the fight against the disease this morning. Paterno's legacy as the head coach of Penn State's football team was one of success on the field (he holds the record for most wins as a Division I head coach) and adoration off the field, as his 62 years on the school's coaching staff made him a beloved figure among the students there.