Watch Bert the Conqueror
Bert Kreischer helps you plan your trip by going places and trying out events that can make your vacation a wild adventure.
Wednesday 10:00 PM et/pt on Travel Channel on Travel Channel

2 Seasons,

26

Episodes - Currently Airing

1/10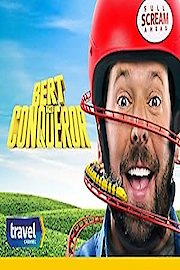 Bert the Conqueror

Full Episode Guide
Season 2
(1 clip available)
Episode 16 - Upper Midwest

Bert races a machine-powered chariot at speeds upwards of 40 miles per hour against locals of the Upper Midwest in an ancient Roman-style chariot event with a modern twist.

Bert takes on whitewater rapids in Colorado.

Bert shoots through the world's longest water coaster and then is off to the mountains to skim and glide a snow tube across a pit of icy water.

Episode 12 - San Francisco

Episode 11 - Cancun, Mexico

Episode 7 - Eastern Texas

Episode 6 - Alberta, Canada
Episode 10 - South Carolina

Episode 9 - Massachusetts

Episode 4 - New Hampshire
If You Like Bert the Conqueror, Then Try...