Watch Best Skate Competitions Ever
Best Skate Competitions Ever is a television series that follows the exploits of professional and amateur skateboarders as they practice cool tricks and push the boundaries of what they can do with their skateboarders. It takes the viewer around the world to various competitions and events that pro skateboarders experience. Some of the episodes follow world famous pro skaters as they compete in competitions, struggling to wish a cash prize and medals while performing dangerous tricks and stunts. Other episodes are focused on giving the viewer tips on how to become a better skateboarder, such as perfecting your stance while on the board. As many skateboarders know, skateboarding is a lot more complex of a sport than many people realize. Best Skate Competitions Ever really gets into challenging aspects of skating that a casual skateboarder may not realize make a different. There is an episode devoted to your stance on a board, for example.
Some people may feel the skateboarding is a hobby for kids but Best Skate Competitions Ever shows contests where the prizes are a lot of cash, $50,000 is one instance. The show has the most famous skateboarders from around the world competing for these big cash prizes. Some of these competitions have been around for many years including the Tampa Pro has been around for thirteen years and is considered on of the most competitive skating events around.
We see a behind the scenes approach to the event as the Tampa Skatepark owner, Brian, invites skateboarders to come to his park. Best Skate Competitions Ever can really help the viewer expand his or her knowledge about the flashy tricks and basic fundamentals of riding a skateboard in a professional manner. It also gives the viewer a chance to know the many different personalities in the world of professional skateboarding.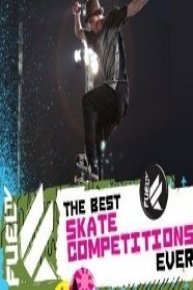 Best Skate Competitions Ever

Full Episode Guide
Episode

12

-

Tampa Pro 2008

"Celebrating it's 13th anniversary, Skatepark of Tampa Owner Brian Schaffer invites pro's from all around the world to Tampa Florida tocompete in the 2008 Tampa pro. This vert and street course competition features some of the best names in skateboarding and is one of the most coveted skateboard contests in place. "

Episode

11

-

Tampa AM 2008

Easily one of the world's biggest Am skateboarding competitions, Tampa Am features Street, Best Trick and even the "Old Man Bowl Jam." It's known as the contest that brings out the future stars of the skateboarding world, including Chaz Ortiz, Cameo Wilson, Vincent Alvarez and many more Amateurs from around the world.

Episode

10

-

Etnies GvR 2007

Watch Goofy footers defend their Title against the Regular footers at the 4th annual Etnies Goofy vs. Regular skateboard competition in Lake Forest, CA. The Goofys have won the past two years and show no sign of slowing down with rippers Jereme Rogers and Nyjah Huston leading the team. Will the Goofys take it for a third straight year or will the Regulars lead by Ryan Sheckler and Rick McCrank reclaim the crown.

Episode

9

-

2007 Rockstar Masa Pro

Rockstar Energy Drink presents the second annual MASA Pro. Watch today's biggest pros battle it out in Fayetteville, NC at the Grand Opening of the Mega Skate Plaza.

Episode

8

-

Tampa Pro 2007

Episode

7

-

Tampa Am 2007

Episode

6

-

Etnies GvR 2006

Episode

5

-

Tampa Pro 2006

Episode

4

-

Tampa Am 2006

Episode

3

-

Etnies GvR 2005

Episode

2

-

Tampa Pro 2005
If You Like Best Skate Competitions Ever, Then Try...