Watch Better Half
Hosted by Curb Your Enthusiasm's Susie Essman, Better Half is a new reality series in which the spouses of two professionals (chefs, comedians, etc.) square off by coaching their partner to work their jobs. Each week, three judges evaluate how well the couple underwent each hand-off. The winning team will win an amazing prize.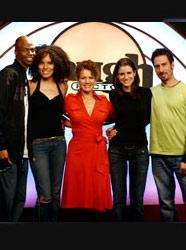 Better Half

Full Episode Guide
Episode 6 - Party Planners

For expert event planners Erica and Jeff, work's a blast, but Michael and Oskar, the men in their lives, are about to discover the agony behind their ecstasy as they learn the ins and outs of partying from their professional partners in the business. Guest Judges: Marcy Blum, Peter Otero & Majorie Gubelmann-Raein.

Two hairstylists teach their male partners---one a personal trainer, the other a plumber---how to cut and coif hair. The two newbies then go head-to-head (literally) in competition to showcase their new skills. Hair-care specialists Ted Gibson, Mark Garrison and Rita Hazan are the guest judges.

Episode 4 - Fitness Trainers

Two fitness trainers have only two days to teach their sweaty craft to their mates, who are then tested when they must lead their own aerobics class. Wellness gurus Jackie Warner ('Work Out'), David Kirsch and Denise Austin are the guest judges.

Episode 3 - Photographers

Two professional photographers focus on teaching their mates how to take pictures and stage a shoot. Model Maggie Rizer and photographers Ron Galella and Patrick McMullan are the guest judges.
If You Like Better Half, Then Try...