Watch Big Law: Deputy Butterbean
Eric Esch at 416 pounds is known by his fans as "Butterbean." Now, Butterbean is taking his boxing tough guy reputation to the streets of his hometown, where he's been deputized by the Walker County Sheriff's office. Follow along as he goes through training with the police force, and as he patrols the streets of his hometown in Jasper, AL.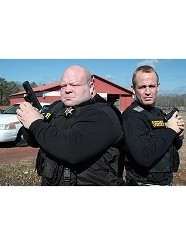 Big Law: Deputy Butterbean

Full Episode Guide
Episode 9 - Dangerous Games

Butterbean and Hadder chase an alleged drunk driver across county lines and although it finally ends, the night is just getting started. Searching for one suspect, they discover several more who unexpectedly help deputies score the ultimate drug bust.

Episode 8 - Circle of Lies

Deputies Butterbean and Hadder capture a methamphetamine manufacturer. Later the two capture and interrogate a strange pair of suspected cocaine traffickers.

Butterbean and Hadder are searching for mysterious man who is believed to be a big time drug dealer and one of their most challenging cases yet.

Episode 6 - Show Me the Money

Episode 5 - Web of Deceit

Episode 3 - Bait & Switch

Episode 2 - Reefer Madness

Episode 1 - Bad Influence
If You Like Big Law: Deputy Butterbean, Then Try...