Watch Big Law: Deputy Butterbean
Big Law: Deputy Butterbean follows the new deputy in town, Deputy Butterbean, a former boxer and mixed martial artist. Eric Esch spent the earlier part of his life as Butterbean, and is now known as Deputy Butterbean, working in Walker County, Alabama to uphold the law.
Cameras follow the deputy around as he takes calls, works cases and pulls drunk drivers and drug users off the road. This deputy sheriff is always ready for whatever is about to happen in each situation and the residents of Walker County know that he means business whenever he turns up.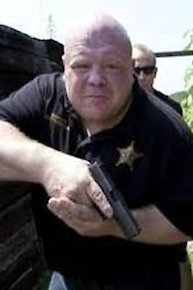 Big Law: Deputy Butterbean

Full Episode Guide
Episode

9

-

Dangerous Games

Butterbean and Hadder chase an alleged drunk driver across county lines and although it finally ends, the night is just getting started. Searching for one suspect, they discover several more who unexpectedly help deputies score the ultimate drug bust.

Episode

8

-

Circle of Lies

Deputies Butterbean and Hadder capture a methamphetamine manufacturer. Later the two capture and interrogate a strange pair of suspected cocaine traffickers.

Butterbean and Hadder are searching for mysterious man who is believed to be a big time drug dealer and one of their most challenging cases yet.

Episode

6

-

Show Me the Money

Episode

5

-

Web of Deceit

Episode

3

-

Bait & Switch

Episode

2

-

Reefer Madness

Episode

1

-

Bad Influence