Watch Big Sexy
Series Length:
1 Season,

3

Episodes
Schedule:
Tuesday 10:00 PM et/pt on TLC
Description:
Big Sexy introduces Tiffany, Nikki, Heather, Leslie and Audrey, five beautiful friends who are confident with their curves. They're single, stylish, and have big dreams of making it in the Big Apple.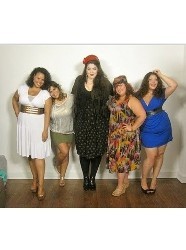 Big Sexy

Full Episode Guide
Episode 3 - Big Bikini Beach

Heather invites the ladies to come to Miami with her for the photo shoot of her new bikini line.The ladies learn the emotional truth behind Heather's motivation for launching her new line.

The ladies of Big Sexy take on dating after Nikki and her boyfriend breakup when she finds out some unsettling news about him. In an attempt to shake up the girls' love lives, Leslie throws a singles party.

The ladies attend the New York Fashion Week and against fashion's best and brightest, they realize that they're comfortable and proud of their size, but the rest of the world may not agree.