Watch Bloop & Loop
Bloop & Loop are two happy friends who encourage toddlers to use their imaginations, recognize shapes and learn new words.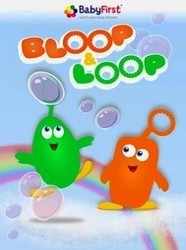 Bloop & Loop

Full Episode Guide
Today, Bloop and Loop keep guessing what object or animal is inside each bubble. Try to spot the star, boat, football and other shapes.

Watch with your little one as Bloop and Loop create amazing things out of ordinary bubbles: an airplane, a butterfly, a rubber duck and so much more.

Help your child guess what objects and animals Bloop and Loop are creating! Items include a frog, a strawberry, a drum and other bubble shapes.

Bloop and Loop are creating all kinds of fun things out of bubbles. Watch with your child as they make a tree, bell, helicopter and more.
If You Like Bloop & Loop, Then Try...