Watch Braxton Family Values
WE tv's original series Braxton Family Values follows the lives of superstar singer Toni Braxton, her four outlandish sisters Traci, Towanda, Trina and Tamar, and their mother Evelyn. Also featured on the show are Towanda's writer husband Andre Carter, Trina's husband Gabe Solis, Tamar's husband Vince Herbert who manages Lady Gaga, and Michael Braxton Sr., Evelyn's former husband, who is the girls' daddy. Also, featured prominently in the second season is Dr. Sherry Blake who counsels the family.
The first season of Braxton Family Values included ten regular episodes and a reunion special hosted by television personality Wendy Williams. It aired from April 2011 to June 2011. Season Two had nineteen episodes and aired from November 2011 to March 2012. It also finished up with a reunion special hosted by Ms. Williams. Season Three is set to air August 2012.
The show takes a close look at the inside of a very talented family who struggle with jealousy, heartbreak and finding their own place in the world. The first season introduced the audience to the family and their difficulties in dealing with marital issues and sibling rivalries. Viewers learned that several of them are now backup singers and a personal assistant to the more famous sister Toni although the sisters started out singing together. That is a source of a lot of conflict in the family since each girl wants her own moment in the spotlight. Tamar is especially vocal on the subject and Trina is constantly looking for a break in her career.
The first season also deals with Trina's DUI arrest and her having to break the news to her mother. The difficulties in the marriages of both Towanda and Trina are also highlighted, as well as Toni's revelation that she is battling Lupus. The girls visit their old home in Maryland and try to reconnect with their dad who stands them up at a lunch date. When he finally has dinner with them, Evelyn is there and calls him out for cheating.
In its second season, the show heats up with Toni moving to Los Angeles to take better care of herself and her illness, Tamar becoming increasingly obstinate with her new-found fame, Trina and Towanda trying to deal with their collapsing marriages, and Traci trying to open her own salon. Through it all the sisters still struggle with competitiveness while trying to maintain the familial connection that they all hold dear.
Watch Full Episodes of Braxton Family Values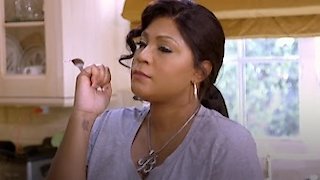 Season 6 Episode 15
Spilling the Tea
Season 6 Episode 14
Broadway or Bust
Season 6 Episode 13
Flippin' The Bird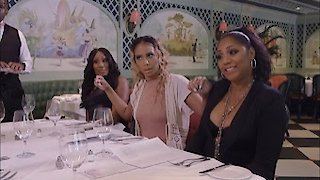 Season 6 Episode 12
Trick Thy Sister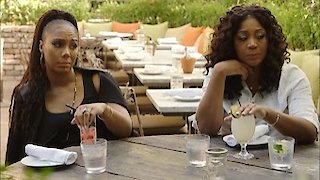 Season 6 Episode 11
This Is Not About Re...
Season 6 Episode 10
What's the T With Yo...

Watch Episodes
Clips & Extras
Braxton Family Values

Full Episode Guide
Season
6
15 full episodes, 36 clips available
Episode

15

-

Spilling the Tea

In the fifth-season finale, tensions rise between the sisters at Toni's slumber party. Later, Tamar storms out after Toni grows tired of her bad attitude.

Episode

14

-

Broadway or Bust

Trina's sons reveal true feelings in a showdown with her ex, Gabe. Tamar breaks the news to producers that her sisters won't do the Broadway show.

Episode

13

-

Flippin' The Bird

Episode

12

-

Trick Thy Sister

Gabe makes an unexpected admission to Trina. Later, Tamar performs at an exclusive event; Traci tricks her sisters at her studio session; and Toni's dinner is tarnished after Tamar's insulted.

Episode

11

-

This Is Not About Rekindlerization......

Trina's ex, Gabe, crashes a sister lunch & they unleash questioning him about the divorce.

Episode

10

-

What's the T With You and B?

Towanda & Trina surprise Toni at their concert. Toni introduces the family to a new man; Tamar has questions. Trina confronts her ex, Gabe.

Episode

9

-

Wasband's Back

Trina has a frank conversation with her ex, Gabe, but it takes a turn for the worse. Toni has her final show with Trina & Towanda as her background singers.

Episode

8

-

You Want That Old Thang Back?

Trina confesses she contacted her ex, Gabe, which upsets Tamar. Toni has the takeover spirit in a sister cook off.

Episode

7

-

Toni Got A Ditty

Tamar is anxious about her performance for Smokey Robinson; Toni reveals that she has a date; and Towanda has a secret appointment. Later, Trina confronts her sisters.

Episode

6

-

You Gotta Get Pelvic To Pelvic!

Toni performs in Brooklyn; dinner disaster. Towanda's partner disappoints her at their dance competition; Tamar critiques Towanda. Toni tells Tamar her plans to change her show that might upset Trina & Towanda.

Episode

5

-

Oh You Tried It!

Toni screens her biopic movie; Tamar is introduced to her on-screen counterpart; and Towanda divulges her secret to Trina. Later, Trina addresses her sister issues.

Episode

4

-

Not Famous Enough

Towanda dishes on Trina's man. Traci worries about her surgery. Towanda is nowhere to be found at Tamar's fashion show, which upsets Tamar.

Episode

3

-

S*** Gets Real

Tamar discusses being "fired" from The Real. Trina wants to purchase a gun for protection. Miss E's date is crashed by Tamar and Toni.

Episode

2

-

Man Enough For Mommy

Episode

1

-

Not My Momma!

After Evelyn suffers a stroke, the sisters battle over where the best place for her to live would be, Atlanta or LA. Evelyn finds a new lease on life.
Season
5
17 full episodes, 5 clips available
Episode

102

-

Braxton Family Christmas

The Braxton family gathers to celebrate Christmas with cooking, cocktails and singing; a secret upsets the festive cheer.

Episode

101

-

Braxton Family Secrets Part 2

The biggest moments from season 4 of Braxton Family Values with never-before seen exclusives, behind the scenes interviews and fan questions.

Episode

100

-

Braxton Family Secrets Part 1

The biggest moments from season 4 of Braxton Family Values with never-before seen exclusives, behind the scenes interviews and fan questions.

Episode

16

-

Making Fetch Happen

The sisters collaborate on Toni's Christmas album; busy schedules and past issues stir up drama. Traci storms out. Jacent's gift thrills Trina. Tamar album.

Episode

15

-

An Engaging Question

Episode

14

-

Restraint Thineself

Tamar is concerned that Trina's boyfriend wants a private meeting with their father. Towanda shocks all with her role in a new theater project. Sisters attend Trina's test run for Bar Chix; bartender blows up.

The sisters get competitive on Family Feud. Tamar shocks Evelyn with her new video. Traci forces Kevin Jr. and fiancee to care for a fake baby. Trina goes barhopping with potential Bar Chix; things get wild.

Episode

12

-

It's a Family Thing

Traci performs at Toni's show. Trina's new man meets Daddy. Traci confronts son's fiancee. Trina searches for bartenders. Tamar's party for Logan.

Traci confesses her issues to the sisters. Tamar promotes new fashion. Toni asks Traci to sing at a major jazz festival, but Traci's nerves take over!

Episode

10

-

In the Hot Seat

Trina is feeling stressed out over her divorce and Bar Chix. Traci is encouraged to try and deal with her issues.

Episode

9

-

One Wild Ride

Bishop T.D. Jakes doles out harsh criticism for the sisters and Daddy surprises the family with an RV trip.

Episode

8

-

Divine Intervention

Tamar defends herself after missing an important family event and a major blowup causes division among the family.

Episode

7

-

Queens of the Everglades

Traci's behavior in Miami concerns family; worries about her drinking. Tamar judges on RuPaul's Drag Race. Sisters panic on alligator tour! Tamar feels threatened, and misses a big event for Toni's son Diezel.

Episode

6

-

Sisters Strike Out

The sisters go bowling but the situation becomes tense when Trina gets defensive about her divorce.

Episode

5

-

Taste For Chocolate...

The sisters support Toni as she gets ready for the Grammys. Tamar tries to bond with her sisters, but it backfires when her Atlanta concert comes up.

Episode

4

-

Forty, Free, and On Fleek!

Traci panics before her showcase. Toni is honored with an award in Atlanta; sisters wonder where's Tamar? Trina brings a mystery date to her superhero-themed 40th birthday party. Tamar feels out of the loop.

Episode

3

-

No Time to Panic!

Trina and sons are forced to move out of their home. Tamar feels isolated by her sisters. Traci preps to perform her new song and has a panic attack!

Episode

2

-

Ms. E-mergency

Tension runs high when Mama Evelyn faces major surgery. Trina faces Gabe in court and shocks the family when she reveals details of her divorce.

Episode

1

-

Go For the Jugular!

The sisters get back together after going their separate ways. Trina files for divorce but doesn't know how to tell the girls. Traci's son reveals shocking news.
Season
4
10 full episodes, 1 clip available
Season
3
26 full episodes
Season
2
26 full episodes, 68 clips available
Season
1
10 full episodes
If You Like Braxton Family Values, Then Try...
Braxton Family Values Video Clips & Extras
Braxton Family Values | Dear Dog Encore | Season 5
Clip (01:45)
Braxton Family Values | Toni Eats Dirty Nuts | Season 5
Clip (01:15)
Braxton Family Values | Chick Fil-A at Fashion Shows... No No No! | Season 5
Clip (02:01)
Braxton Family Values | 'Family Night Gone Wrong' Sneak Peek | Season 5
Clip (00:30)