Watch Britney: For The Record
Britney: For The Record is a documentary which takes the viewer inside the world of singer Britney Spears. The show reveals Britney's thoughts and feelings about things that have happened in her life. Britney wants to show her viewers the person she has become despite all the news that was released publicly about her.
1 Season,

1

Episode - Special Event

5.5/10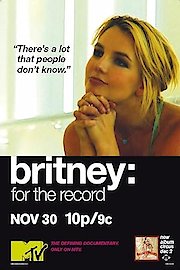 Britney: For The Record

Full Episode Guide
Watch as MTV takes an inside look at Britney Spears' comeback to stardom.
If You Like Britney: For The Record, Then Try...
Britney: For The Record News
Watch Britney Spears and Iggy Azalea's Crazy New Video
Hey, remember the 80's movie "Earth Girls Are Easy?" Britney Spears and Iggy Azalea do. The two pop stars' collaboration together, titled "Pretty Girls," has a new music video out today and it's very much an homage to 80's movies..."Earth Girls Are Easy" in particular. In the video, Azalea stars as an alien girl who comes to Earth to party, while Britney is her Earthling, valley-girl tour guide. They hit up a car wash, go to the club, bust an ATM and there's even some good old-fashioned Britney dance sequences.
Is Britney Spears Soon To Be Engaged?
After a prolonged stretch of apparent sanity, it looks like Britney Spears may soon once more walk down the aisle. According to RadarOnline, boyfriend Jason Trawick has been a busy man. If diamonds are girl's best friend, then let's call him a good "friend of a friend": he's apparently been browsing Tiffany and Harry Winston selections looking for just the right rock to talk the pop icon into a third try at wedded bliss. The blog claims he's currently keeping his main squeeze company on the South American leg of her ongoing Femme Fatale Tour, but is near a decision.
Britney Spears Lawsuit: Farting Was the Case They Gave Her
Former Britney Spears bodyguard Fernando Flores wants the world to know, he's had enough of Britney Spears' femme fatale flatulence, is up to here with her vamp vapors, can't take anymore backdoor breezes, and will be having no more of her anal acoustics. In a $10 million dollar lawsuit against his former employer this week, Flores made several claims, including that Spears sexually harassed him, that she stinks due to B.O. and baking butt biscuits, and that she is on drugs. Here are five of the more interesting claims from Flores: 1.
PREMIERE: Watch the New Britney Spears 'I Wanna Go' Video
I knew this one was going to be good when the first shot we get of Britney shows her in studded stilettos! Rarrrrrr... Britney Spears, who is in the midst of her summer Femme Fatale tour, just released the video for "I Wanna Go," the third single off her new album. In the video, directed by Chris Marrs Piliero Britney jokes about being preggo with quintuplets by Brad Pitt, drops four F-bombs and hooks up with a cop after flashing him some cleave. Bad girl, Brit Brit! While I could have done without the pink extensions, the clip shows the fun-loving Britney we remember.
Britney Spears Tweets Sound Clip of New Single (Listen To 'Inside Out' Snippet)
More teasing - brought to you by Britney Spears. Only days after the world came down from Britney Spears hyper-alert mode with the release of her video for "Hold It Against Me," she tweets and stimulates her fans again. This time Spears gave the world a taste of another song from her upcoming album, Femme Fatale. A snippet for the track, "Inside Out" was released by the artist's music producer Dr. Luke on Twitter with the messaging "fine!!!!!" It is still unclear whether or not the track will be the next single off the disc but either way, we dig it.