Watch Building Green Online - Full Episodes
Series Length:
1 Seasons,

13

Episodes
Description:
"Building Green" is a new home improvement program about building gorgeous homes that are healthier, more energy efficient and better for the environment. The new television series spends the first season following the building of a state-of-the-art straw bale home in Santa Barbara, CA. Each phase of sustainable construction is presented by Kevin, as host, who explores green building from all angles; sharing the challenges of getting everyone on board, finding the right materials and sub-contractors, showing the in depth 'how-to' of building in this innovative way.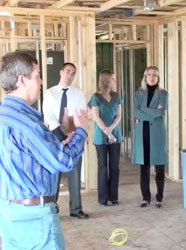 If You Like Building Green, Then Try...