Watch Building Green
"Building Green" is a new home improvement program about building gorgeous homes that are healthier, more energy efficient and better for the environment. The new television series spends the first season following the building of a state-of-the-art straw bale home in Santa Barbara, CA. Each phase of sustainable construction is presented by Kevin, as host, who explores green building from all angles; sharing the challenges of getting everyone on board, finding the right materials and sub-contractors, showing the in depth 'how-to' of building in this innovative way.
1 Season,

13

Episodes - Canceled/Ended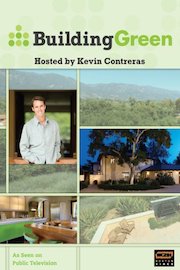 Building Green

Full Episode Guide
The process was off to a slow start due to limited information resources and understanding about green building.

Episode 12 - Interior Design

Before he begins building, Kevin invites a Feng Sui expert, Victoria Miller, to come and give her opinion of his architectural plans.

The greenest garden of all: one without any green -- a rock garden.

Alyssa Alvord, building Green health expert, explains why clean water is so essential to our health.

Episode 8 - Floors and Closets

Episode 7 - Interior Finishes

Episode 6 - Exterior Finishes

Episode 5 - Doors and Windows

Episode 3 - Framing and Roofing

Episode 1 - Breaking Ground
If You Like Building Green, Then Try...