Watch Celebrity Apprentice
NBC's Celebrity Apprentice presents a variety of celebrities from movies, TV, sports and even politics to compete for charity dollars and to be hired by business magnate Donald Trump. The series premiered in 2008 as a revised version of The Apprentice, which Trump also hosted. Instead of trying to win a job with the Trump Organization, the 14 to 18 celebrities want to raise the most money for a charity of their choice.
The show places the stars into two competing teams, which complete tasks such as selling ice cream on the New York City streets or creating an ad campaign for a product or organization. The teams have the feedback of Trump's advisors during the task, such as his children Ivanka and Donald Jr., or previous Apprentice contestants. The celebrities can earn money for their charities by winning weekly tasks as the leader, or project manager. The losing team has the unpleasant of task of selecting the underperformers on their team and then choosing two or three contestants to face Trump and his two advisors in the boardroom. Each episode ends with Trump saying, You're fired to the celebrity exiting the competition. The celebrity ranks shrink each week until two final contestants battle it out for the final task, with the help of some of their former teammates. Past winners of the show that include journalist Piers Morgan, comedian Joan Rivers, rock star Bret Michaels, country singer John Rich and talk show host Arsenio Hall.
The show has remained a highly rated program throughout its run. The audience gets a behind-the-scenes look at stars outside of their public personas with lots of bickering, flubs and strange behavior. Each season provides a new slate of familiar, if not quite as famous, public figures out of their element. Some of the wide variety of celebrities on past shows include one-time teen idol David Cassidy, comedian Andrew Dice Clay, impeached Illinois Governor Rod Blagojevich, NBA's Dennis Rodman, Kiss' Gene Simmons, Olympic gold medalist Nadia Comaneci, reality TV star Sharon Osbourne, and pop singer Cindy Lauper. The long hours and large egos often lead to feuds and fights among the cast, which provides the most entertaining moments on the show.
The show continues to earn high ratings and remain on the pop culture radar. NBC has already renewed the series for a sixth installment, which will premiere in January 2013.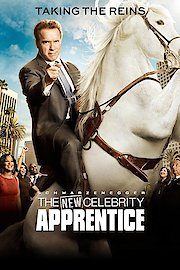 Celebrity Apprentice

Full Episode Guide
Season 14
(31 clips available)
Episode 9 - Live Finale: A New Celebrity Apprenti...

Geraldo and Leeza focus on the final details of a star-studded red carpet event, where they will present the commercial they created for Universal Orlando Resort. In a live Boardroom showdown, Donald Trump chooses the seventh "Celebrity Apprentice."

Episode 8 - Universal Wizards

Who will be chosen as the two finalists?

Episode 7 - Top Feuds Firings and Fails

From Omarosa to #PhoneGate, take a look back at the craziest moments in Apprentice history.

Episode 7 - Top Feuds, Firings and Fails

Episode 6 - Who Stole My Phone?

Each team has to create a "photo bomb" and hashtag campaign for King's Hawaiian. Meanwhile, Vivica and Kenya's feud erupts.

Episode 5 - It's Like a Booze Cruise with Knowled...

Episode 4 - I Wish I Had a Project Manager

Episode 3 - A Family Affair

Episode 2 - Nobody Out Thinks Donald Trump

Episode 1 - May the Gods of Good Pies Be With Us
Season 13
(19 clips available)
Episode 12 - One Of Us Will Win, But Not By Much

Episode 11 - May The Spoon Be With You

Episode 10 - The Mayor of Stress Town

Episode 9 - Ahab's In Charge, And He's Gone Mad

Episode 8 - Are You My Zulu Dancing Man?

Episode 7 - The First Leaf That Hits the Ground

Episode 6 - How Do You Spell Melania?

Episode 5 - Lightning Strikes Mr. Hang Brain

Episode 4 - Men In Black Are Gonna Come Get Him

Episode 3 - I'm Being Punked By A Jackson

Episode 2 - Just as Simple as Making Soup

Episode 1 - The Wolf In Charge Of The Hen House
Season 12
(1 clip available)
Most Popular Celebrity Apprentice Episodes
Celebrity Apprentice News
View More News