Watch Celebrity Apprentice
NBC's Celebrity Apprentice presents a variety of celebrities from movies, TV, sports and even politics to compete for charity dollars and to be hired by business magnate Donald Trump. The series premiered in 2008 as a revised version of The Apprentice, which Trump also hosted. Instead of trying to win a job with the Trump Organization, the 14 to 18 celebrities want to raise the most money for a charity of their choice.
The show places the stars into two competing teams, which complete tasks such as selling ice cream on the New York City streets or creating an ad campaign for a product or organization. The teams have the feedback of Trump's advisors during the task, such as his children Ivanka and Donald Jr., or previous Apprentice contestants. The celebrities can earn money for their charities by winning weekly tasks as the leader, or project manager. The losing team has the unpleasant of task of selecting the underperformers on their team and then choosing two or three contestants to face Trump and his two advisors in the boardroom. Each episode ends with Trump saying, You're fired to the celebrity exiting the competition. The celebrity ranks shrink each week until two final contestants battle it out for the final task, with the help of some of their former teammates. Past winners of the show that include journalist Piers Morgan, comedian Joan Rivers, rock star Bret Michaels, country singer John Rich and talk show host Arsenio Hall.
The show has remained a highly rated program throughout its run. The audience gets a behind-the-scenes look at stars outside of their public personas with lots of bickering, flubs and strange behavior. Each season provides a new slate of familiar, if not quite as famous, public figures out of their element. Some of the wide variety of celebrities on past shows include one-time teen idol David Cassidy, comedian Andrew Dice Clay, impeached Illinois Governor Rod Blagojevich, NBA's Dennis Rodman, Kiss' Gene Simmons, Olympic gold medalist Nadia Comaneci, reality TV star Sharon Osbourne, and pop singer Cindy Lauper. The long hours and large egos often lead to feuds and fights among the cast, which provides the most entertaining moments on the show.
The show continues to earn high ratings and remain on the pop culture radar. NBC has already renewed the series for a sixth installment, which will premiere in January 2013.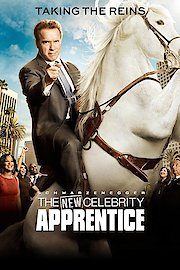 Celebrity Apprentice

Full Episode Guide
Season 14
(31 clips available)
Episode 9 - Live Finale: A New Celebrity Apprenti...

Geraldo and Leeza focus on the final details of a star-studded red carpet event, where they will present the commercial they created for Universal Orlando Resort. In a live Boardroom showdown, Donald Trump chooses the seventh "Celebrity Apprentice."

Episode 8 - Universal Wizards

Who will be chosen as the two finalists?

Episode 7 - Top Feuds Firings and Fails

From Omarosa to #PhoneGate, take a look back at the craziest moments in Apprentice history.

Episode 7 - Top Feuds, Firings and Fails

Episode 6 - Who Stole My Phone?

Each team has to create a "photo bomb" and hashtag campaign for King's Hawaiian. Meanwhile, Vivica and Kenya's feud erupts.

Episode 5 - It's Like a Booze Cruise with Knowled...

Episode 4 - I Wish I Had a Project Manager

Episode 3 - A Family Affair

Episode 2 - Nobody Out Thinks Donald Trump

Episode 1 - May the Gods of Good Pies Be With Us
Season 13
(19 clips available)
Episode 12 - One Of Us Will Win, But Not By Much

Episode 11 - May The Spoon Be With You

Episode 10 - The Mayor of Stress Town

Episode 9 - Ahab's In Charge, And He's Gone Mad

Episode 8 - Are You My Zulu Dancing Man?

Episode 7 - The First Leaf That Hits the Ground

Episode 6 - How Do You Spell Melania?

Episode 5 - Lightning Strikes Mr. Hang Brain

Episode 4 - Men In Black Are Gonna Come Get Him

Episode 3 - I'm Being Punked By A Jackson

Episode 2 - Just as Simple as Making Soup

Episode 1 - The Wolf In Charge Of The Hen House
Season 12
(1 clip available)
If You Like Celebrity Apprentice, Then Try...
Most Popular Celebrity Apprentice Episodes
Celebrity Apprentice News
Donald Trump: Love Doctor?
What the huh-what-now? Apparently the newest "celebrity" to get involved in the Kristen Stewart/Robert Pattinson reconciliation is "Celebrity Apprentice" host and badly-coiffed Donald Trump. Trump took to his Twitter to give Pattinson some friendly, unsolicited advice: "Robert Pattinson should not take back Kristen Stewart. She cheated on him like a dog & will do it again — just watch. He can do much better!" But that's not all! Trump felt the need to get his opinion in elsewhere as well—this time regarding on again, off again, who-really-knows-at-this-point sometime couple Katy Perry and John Mayer.
'All-Star Celebrity Apprentice' Bringing Back Busey and Other Weirdos
If you watched the fourth season of "Celebrity Apprentice," you witnessed the magic that was Gary Busey trying to make sales pitches. So naturally, when Trump and company decided to make the next season an "All-Star" verison of "Celebrity Apprentice," Busey was one of the 14 former contestants asked to return. The list of returning contestants includes 13 former runners-up (you can call them "losers" if you like), and one former winner: Bret Michaels, who won despite some life-threatening ailments.
Donald Trump Sends Kind Words to Rosie O'Donnell Following Nearly Fatal Heart Attack
Apparently all it takes to reconcile two bitter enemies is a little ol' near-fatal heart attack. Rosie O'Donnell, 50, recently suffered an attack when she helped an "enormous woman" out of her car (just how big was this woman?). She didn't think much of the pain at first, but as it continued throughout the day, O'Donnell started to wonder if it was something serious. So, of course, she turned to Google, and remembered back to an aspirin commercial that said it can help with heart attacks.
Wesley Snipes: Talent Agency Is The Pimp, Client Is The Ho
You wouldn't think, considering why he's behind bars, that Wesley Snipes could be counted on to deliver a solid, tough-to-discount business simile. In this instance, you'd be wrong. Hey, so would we, for that matter. Nevertheless, Perez Hilton Friday highlighted a video now making its way quickly around the Internet: the star of "Blade" and "New Jack City" delivered a deposition for a 2008 civil case filed against him by reputed Hollywood talent agency UTA over unpaid commissions.
Aubrey O'Day Can't Respect Arsenio Hall After Calling Her 'Slut' On 'Celebrity Apprentice'
As far as Aubrey O'Day is concerned, Arsenio Hall has found the line and crossed it after some "Celebrity Apprentice" harshness between the two. The former Danity Kane singer and Playboy cover girl told Celebuzz, according to a recent Us Weekly article, that she's seen her respect for the comedian and former "Arsenio Hall Show" host diminish after he "crossed boundaries" by calling her a "slut" during a recent episode. O'Day, 28, didn't mind also pointing that Hall's remarks are inaccurate in her eyes, atop being crass.
2012 'Celebrity Apprentice' Cast Revealed, Head-Scratching Ensues
Another year, another season of "Celebrity Apprentice." The reality competition show that just wouldn't die is back for a 12th season, and NBC just announced the new cast members. For the most part, it's what you would expect from a "Celebrity Apprentice" list: a few washed-up celebs here, a few no-namers there, a model or two, a Real Housewife of Somewhere or Another, and a couple of people who make you go "hey, I like that person, too bad he/she is on this show.
Donald Trump: 'Don't Call Me a Millionaire!'
Most people would be happy to be referred to as a millionaire, especially if their net worth is somewhere around $200 million. But Donald Trump is not most people, and Donald Trump doesn't like being called a millionaire. In fact, Trump was so offended when author Timothy O'Brien evaluated Trump's net worth at around $150 million to $250 million that he sued O'Brien for libel. Trump's beef, of course, is that he claims himself to be a billionaire, not a millionaire.
John Rich Wins 'Celebrity Apprentice,' Apparently Nobody Cares
Donald "Orangeface" Trump announced the winner of "Celebrity Apprentice" Sunday night during a two-hour live finale. John Rich was crowned king of all things fundraising and crazy business plans, the confetti flew, and the audience applauded. But audiences at home seemed unimpressed. Sunday's finale was the lowest-rated spring finale for the "Apprentice" franchise, dropping 15% from last year's finale. It still drew 8.9 million viewers, but dropped to a 2.
Episode 'Celebrity Apprentice' Season 11, Episode 11 - '7-Up Finale Part 2: Sweet Victory' Recap
Trump comes out and delivers us facts about this season, like that it had "the most entertaining competitors ever." Seems to me that's a subjective thing, but who am I to argue with a man that has his own red carpet unrollers? This begins the live telecast, a ridiculous affair in which Trump walks onto a sound stage made up like the boardroom to a standing ovation from a strange mix of celebrities, entrepreneurs, and I think I saw a beauty contestant too. Trump delivers a monologue about the season, looking incredibly uncomfortable in that comfy-looking chair.
Donald Trump Will Not Run for President, 'Celebrity Apprentice' Lives On
This just in: Donald Trump will not be running for president. The Donald made the announcement at NBC's upfront presentation today, a venue that makes some sense in that his candidacy would have made an impact on "Celebrity Apprentice." Had Trump decided to run, he would not have been able to host the TV show, or else his opponent (President Obama) would have been given equal prime time broadcast time. Considering "Celebrity Apprentice" runs for two hours on Sundays, that would be a pretty big deal.
NBC Unveils Fall TV Schedule Including 12 New Shows (Watch Trailers Here)
Over the weekend NBC announced their fall TV lineup. Last week we detailed 7 of the new pilots they picked up and today we have 5 more to tell you about with trailers. The network also revealed more renewals and cancellations. After this season we will say sayonara to "Outsourced," "Law & Order: Los Angeles" and "The Event." Donald Trump's "Celebrity Apprentice" got picked up for a 12th season but could see someone new in the boss chair if The Donald makes a run for Pres.
View More News