Watch City Confidential
City Confidential is a true crime documentary-style television show featuring American cities and the effect on those communities of particularly notorious crimes (usually murder). Originally narrated by Paul Winfield, each episode begins with an introduction to an American town and tells the story of the town's history and the people, industry, and anecdotes that make up its communal personality.
The first half hour is devoted to the town itself with barely a reference to the crime that becomes the point of the story. It is narrated in a gossipy, conspiratorial tone which draws the observer into an intimate familiarity with the community.
The second half hour introduces us to the people involved in the murder, including a short biography of each and how fate brought them together. A narrative of the facts leading up to the murder is followed by graphic detail of the crime, a timeline of the investigation of the suspect, and the facts of the trial and eventual verdict.
Finally, we are brought back into a narrative of the town itself and the lingering impact of the murder and criminal trial.
11 Seasons,

132

Episodes - Ended

4.5

/5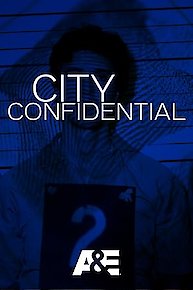 City Confidential

Full Episode Guide
Episode

13

-

Huntsville, AL: Twins on Trial

The Rocket City of Huntsville, AL is the setting for this episode about twins charged with murder.

Episode

12

-

New London, CT: Extreme Family Feud

A vicious family feud finally boils over in the town of New London, CT.

Episode

11

-

Old Hollywood: Silent Stars, Deadly S...

The story of the 1922 murder of Hollywood director William Desmond Taylor that had plenty of suspects (several of whom were famous) but was never solved. Or was it?

Episode

10

-

Elizabeth, NJ: Death of a Don

A look at the DeCavalcante crime family, which ruled the gritty port city of Elizabeth and resembled the "The Sopranos" of TV fame. The family thrived until three of its leaders were arrested for killing former boss Johnny Boy D'Amato, but the biggest shock came at the trial where it was revealed that Johnny Boy was whacked because he was gay.

Episode

9

-

San Leandro, CA: the Sausage King

Episode

8

-

Saddle River, NJ: From Russia with Mu...

Episode

7

-

Lake Tahoe, NV: the Casino Bomber

Episode

6

-

Reading, MA: Fatal Blow

Episode

5

-

Minneapolis, MN: Deadly Investment

Episode

4

-

Amarillo, TX: High School Hit & Run

Episode

3

-

West Columbia, TX: Killing Cousins

Episode

2

-

Merion, PA: Recipe for Murder

Episode

1

-

Rochester, NY: the Big Heist
Episode

10

-

Conway, SC: Fatal Friendship

Episode

9

-

Emporia, KS: Thou Shalt Not Kill

Episode

8

-

Knoxville, TN: Phantom Hitman

Episode

7

-

Providence, RI: the Mayor and the Mob...

Episode

6

-

Pikeville, KY: Kentucky Gothic

Episode

5

-

Riggins, ID: Frontier Faceoff

Episode

4

-

Orange County, CA: a Family Affair

Episode

3

-

Cookeville, TN: Deadly Politics

Episode

2

-

Seattle, WA: Long Walk Home

Episode

1

-

Palo Alto, CA: Flesh and Blood