Watch Coast Guard Alaska
Coast Guard Alaska is a documentary style television show which follows the lives of a group of US Coast Guard personnel who risk their lives to protect civilians along the coast of Alaska and to feature their bravery in doing so. The show is based at the Kodiak, Alaska Coast Guard station. Occasionally another station along the coast line is also featured. Each episode features a string of search and rescue efforts by divers and Coast Guard patrol boats. Helicopter medical evacuations from the ocean and hard to reach mountains are also featured with experienced Coast Guardsmen paramedics and doctors on hand to save the lives of their injured and sick patients.
Coast Guard Alaska also focuses on more than just the different emergencies these brave men and women respond to help save lives. It shows the interaction between the so called 'Guardian's and how they interact with one another along with their families. The crew of a rescue helicopter works differently than one based on a ship and yet both teams have to work together in order to succeed in their mission. They train together and save lives together.
The show is the most popular TV series to air on the Weather Channel. In fact it has proven to get such high ratings among key demographics that the network has ordered two seasons to air each year in sets of six episodes each. Each season will focus on the summer months or the winter months when the Coast Guard stationed in Alaska are at the busiest from curious tourists to unfortunate fishermen. Currently the show is in production for its third season in only the last year and a half.
Al Roker Entertainment is currently responsible for the production of Coast Guard Alaska and has been since 2011 with Russell Muth as Executive Producer and show runner. Coast Guard Personnel featured may change from season to season due to changes in Coast Guard assignments.
Wednesday 9:00 PM et/pt on Weather Channel

4 Seasons,

42

Episodes - Currently Airing

November 9, 2011

10

/
Watch Full Episodes of Coast Guard Alaska

Season 4 Episode 8
Thank You Coast Guar... (42:00)
Season 4 Episode 7
For All Their Effort... (42:00)
Season 4 Episode 6
Hook, Line and Sinke... (42:00)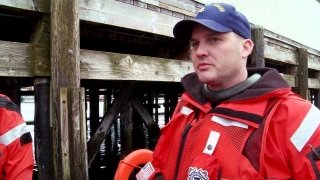 Season 4 Episode 5
Saving the Fallen (42:00)
Season 4 Episode 4
To Final Flights (42:00)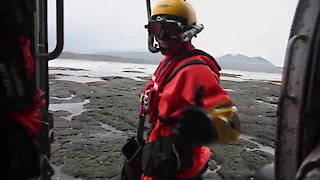 Season 4 Episode 3
Sitka Responds (42:00)

Coast Guard Alaska

Full Episode Guide
Episode

8

-

Thank You Coast Guard Alaska

Aircrews launch into unforgiving conditions to rescue a young woman gone missing, an elderly woman with heart pain and two severely injured males. When no one else will fly, the Coast Guard will launch to the rescue.

Episode

7

-

For All Their Efforts

Time is critical for an overturned skiff with two people in the water, a man experiencing kidney failure and two stranded individuals. The Coast Guard must respond amidst rapidly deteriorating conditions.

Episode

6

-

Hook, Line and Sinker

Coast Guard crews brave hazardous weather and low visibility to effect multiple rescues - a fisherman with a fishhook lodged in his eye, a woman experiencing a heart attack and a boat in distress following a heated dispute.

Episode

5

-

Saving the Fallen

The Coast Guard are called out to help a fisherman at risk of losing his arm and also to help a young man that suffered a dangerous fall.

Episode

4

-

To Final Flights

Air Station Sitka crews must find the quickest route to rescue a logger with severe head trauma and bleeding, and a man whose health is quickly deteriorating. In Kodiak, a motor vessel is hit by a rogue wave that causes multiple injuries.

Episode

3

-

Sitka Responds

Air Station Sitka departs in deteriorating weather to medevac an infant in dire condition, search for a male aboard an overdue skiff and assist a vessel being pounded by waves.

Episode

2

-

In a Land Far Away

Air Station Kodiak faces harsh weather en route to a man with a severed finger, and launches on a long-range SAR for a man injured from a 75-foot fall. In Sitka, aircrews medevac an elderly heart attack patient and a man severely burned in a house fire.

Episode

1

-

The Wind Was Raging

A hunter, stranded for 7 days in Alaska's inhospitable weather is rescued by Air Station Sitka, while in Kodiak, an aircrew battles rough weather to rescue four fishermen forced to abandon ship.
Season
3
13 full episodes
Episode

13

-

Alaska's Dangerous Lure

Vacationers are desperate for help; a fisherwoman experiences severe abdominal pain; hikers are stranded overnight in extreme weather; a man is injured in a biking accident.

Episode

12

-

Touching Lives

A chemical leak threatens a boat's crewmen; a male is crushed by a tractor; a Sitka squad tends to a man suffering a heart attack; Air Station Kodiak welcomes a man with a life-threatening illness.

Episode

11

-

Pucker Factor

Air Station Sitka responds when a man is crushed in a motor vehicle accident, a male suffers a brain injury, and a boat crewman has a stroke.

Episode

10

-

In The Thick of It

Air Station Sitka rescues a man suffering from heart attack symptoms, and search for a downed aircraft and two boat crewmen who have gone overboard.

Air Station Sitka rescues a man suffering from internal bleeding, kayakers stranded in the ice, a man with several broken ribs.

Episode

8

-

A Very Sitka Sendoff

Air Station Sitka is launched on three time-sensitive missions for a fisherman with severed fingers, an injured hiker, and a cruise ship passenger experiencing stroke-like symptoms.

Air Station Sitka rescues a fisherman with severed fingers, an injured hiker, and a cruise ship passenger experiencing stroke-like symptoms.

Air Station Sitka attempts to rescue a man who had an accident while riding an ATV. The team takes on back-to-back cases - including a man who fell on a charter vessel and a woman with a serious back injury.

Episode

6

-

Out on a Limb

Despite low visibility, the guardsmen in Sitka rush to medevac an elderly man in critical condition. Air Station Kodiak battles challenging weather and rough terrain to rescue a missing hiker stranded on a dangerous cliff.

Episode

5

-

All You Can Do

The crew responds when a sailboat loses its engines during rough seas; a child falls seriously ill in a remote Alaskan village; a man in grave condition is aboard a charter vessel.

Episode

3

-

A Pretty Severe Condition

The crew rescues a patient in a remote town, a boater stranded on a freezing beach and a hunter trapped in the mountains.

Episode

2

-

We Have The Watch

The crew takes on three dangerous missions - an intense medevac for a heart attack victim on the brink of death; a risky hoist down to a fishing vessel taking on water; a nighttime search along the frigid coastline for a fisherman lost ashore.

Episode

1

-

An Eye-Opening Experience

On the season 4 premiere, featured is a flight to retrieve an overboard fisherman, a medevac for an injured veteran and a large oil rig goes rogue.
Season
2
13 full episodes
If You Like Coast Guard Alaska, Then Try...