Watch Code Geass - Lelouch Of The Rebellion (Eng Dub) Online - Full Episodes
Series Length:
1 Seasons,

25

Episodes
Description:
Code Geass takes place in an occupied Japan, oppressed by the powerful Britannia Empire. The Japanese people, know now as Elevens, are forced to live a destitute life while the Britannians live in the lap of luxury. A resistance group takes hold as the Elevens try to fight back against Britannia and their humanoid war machines known as Knightmares. Lelouch, the former prince of Britannia, vows to destroy his old nation to take revenge against his father, the king of Britannia. Lelouch was banished, and forced to live in the now occupied Japan, because of his disapproval of Britannia's oppressive rule.
Lelouch has a special power, known as a Geass, which allows him to control the people around him. The Geass allows Lelouch to form relationships with high-powered officials and build up a rebel group to free Japan. Lelouch is also an incredibly intelligent, and tactful person, which gives the rebel Elevens a fighting chance against Britannia's overwhelming power. Lelouch takes on a secret identity and adopts the name Zero. With a resistance behind him, Lelouch begins his campaign to destroy Britannia and free the Japanese people from their oppression.
Code Geass takes place in an alternate timeline where the world is divided into three superpowers: Britannia, the European Union, and the Chinese Federation. Britannia is by far the most powerful nation, and has been conquering smaller nations with the goal of world domination. Japan is their most recent conquest and the show takes place only a few years after the imperialism began. Lelouch and his companions travel all over Asia fighting Britannia and enlisting the help from other nations, such as the Chinese Federation.
Code Geass is an anime with a large focus on politics and global events in this alternate world. Mixed in is personal conflicts and combat, featuring giant mechanized robots.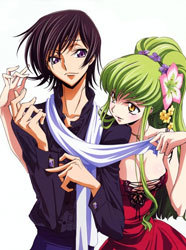 If You Like Code Geass - Lelouch Of The Rebellion (Eng Dub), Then Try...