Watch ComicView
Comicview is a show that airs on Black Entertainment Television, (BET). Comicview is an adults only, stand up comedy show. Comicview has been the stepping stone in so many famous, black comics lives of today. Comicview's viewers are mostly African American. Comicview has had many faces over the years. Comicview has changed, just like their audience members have changed. This show is about prominently black male and female stand up comics, who try to entertain their viewers. The performers are numerous and ongoing. Fresh stand up comedians have a chance to shine and get noticed by big names. The new comedians will be in the presence of the legendary comics. The new comics have a lot of work to do. If they want the recognition and the fame like their predecessors have, they must prove that they are funny. The material must be new and hilarious. The new comer has to bring everything to the stage.
This is where black comedians can be recognized for having comedic talent. When someone is seen to have genuine funny talent, they often make it big in movies. Comicview use to have Mardi Gras episodes, so they can attract new viewers. Many aspects of this show has evolved over its long running years. Big named performers will give the audience a good laugh. Being a comic is usually a cruel occupation. You have good and bad days, but it is hard work. Topics range from subject to subject. The jokes can be explicit, crass, and abrupt, at times. But the jokes are told so we can have fun, and forget about your problems.
Many people watch the show for many different personal reasons. People love a good laugh, and they go to Comicview to get it. The comedians will entertain the audience, and the viewers at home. Critics and fans alike rave over this television show.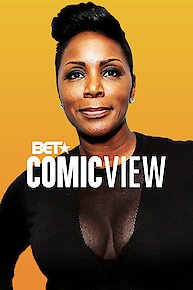 ComicView

Full Episode Guide
Episode

10

-

Capone & Sainab Johnson

Episode

9

-

Mark Viera & Spank

Episode

8

-

Chastity Washington & Sydney Castillo

Episode

7

-

David Arnold & Tiffany Haddish

Episode

6

-

One Mic Stand Featuring Rodney Perry ...

Episode

5

-

One Mic Stand Featuring DC Curry & De...

Episode

4

-

Karlous Miller & T. Murph

Episode

3

-

Lil Rel Howery, Travina Springer

Episode

2

-

Jason Collings, D'Lai

Episode

1

-

James Davis and Trev Houston
Episode

27

-

Comic View Battle

Episode

25

-

He Said What?

Episode

24

-

Best of Comics, Too

Episode

23

-

The Hottest Comics

Episode

22

-

Miles of Laughter

Episode

21

-

You Know Them Well

Episode

20

-

Laugh a Minute

Episode

19

-

The Livest Comics

Episode

18

-

Grown and Sexy

Episode

17

-

Funny Bone Time!

Episode

15

-

Too Hilarious for Words

Episode

14

-

He Said, She Said

Episode

13

-

Nothing but Laughter

Episode

12

-

Let It All Hang Out

Episode

11

-

Just for Laughs

Episode

10

-

Three of Kind

Episode

9

-

Comedy Trails

Episode

8

-

Funny Moments

Episode

7

-

All Things Funny

Episode

6

-

Dealing with Family

Episode

5

-

Heavy Dose of Funny

Episode

4

-

Underground Humor 3

Episode

3

-

Life's Wilder Moments

Episode

2

-

Two Down, Dozens to Come!