Watch Comrades
Comrades is a Korean TV series honoring the men and women who fought in the Korean War. The show emphasizes the human side of war, and that the cost in human life, pain, and suffering overshadows any glory achieved on the battlefield. The Squad Commander of a South Korean unit, Lee Hyun Joong, is trying to protect the men he commands. An experienced war veteran, he is suffering from burn out, and his attitude toward the patriotic conflict is slipping. Despite his worsening attitude, he is fiercely dedicated to protecting the surviving members of his unit. The adventures of the unit are realistically chronicled in these episodes, including time spent in a North Korean concentration camp and their escape.
There is some love interest depicted in these episodes, but the main focus is on interaction between the men, the soldiers and the enemy, an enemy who could have been friendly in the recent past and the effects of politics and war on ordinary people.
This show was enormously popular in Korea, and more recently a movie, The Legend of The Patriots, was made based on the TV series to commemorate the soldiers who fought and died in the Korean War.
Saturday & Sunday 9:40 PM et/pt on DramaFever

1 Season,

20

Episodes

June 19, 2010
Watch Full Episodes of Comrades

Season 1 Episode 20
Episode 20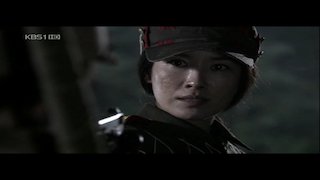 Season 1 Episode 19
Episode 19
Season 1 Episode 18
Episode 18
Season 1 Episode 17
Episode 17
Season 1 Episode 16
Episode 16
Season 1 Episode 15
Episode 15

Comrades

Full Episode Guide
Season
1
20 full episodes
This is the concluding episode to Legend of the Comrades. Sergeant Lee meets Lee Sugyeong in the battlefield for the last time.

Private Beomwoo is slained by comrade Woncheol in front of his squad. Sergeant Baek is shot by Lee Sugyeong.

The squad is back on the front-line. Sergeant Park is shot by enemy snipers and Private Beomwoo gets captured.

Sergeant Lee and his squad are finally safe in a South Korean base. However, they are questioned about their time in the enemy's concerntration camp.

The squad has a new plan to escape. Sergeant Lee finds out from Agent Yoon Jeongin of the North Korean State Security that Lee Sugyeong is still alive.

The prisoners' plan to escape fails. Sergeant Park tells Sergeant Lee that there's a mole among the prisoners.

Sergeant Lee and his squad are still in the concentration camp. They've finally planning to escape during the labor duty.

In order to save the squad, Sergeant Park agrees to become the autonomous squad captian. Meanwhile, Sergeant Lee decides to rescue his team by also placing himself inside the concentration camp.

The squad gets separated from Sergeant Lee and then are caught by the enemy soldiers. They are sent to the North Korean concentration camp.

The team finally sets up traps in the enemy's camp. Lieutenant Lee gets caught in the explosion planted by Sergeant Lee's squad.

In order to save Private Yang Sanggi's life, the squad decides to exchange Private Chun for him. Sergeant Chun Yong Taek gets locked up for letting Private Yang Sanggil get away.

Sergeant Lee and Marine Dae Young are being held and questioned by Lieutenant Lee Sugyeong at the supply camp. Meanwhile, his squads are closing in and are entering the enemy supply camp.

The North Korean Army finds the Guerrilla Unit's hideout and everyone in the hideout are killed. Meanwhile, Sergeant Lee and Marine Dae Young are captured by Lieutenant Lee Sugyeong's squad.

Sergeant Lee and his squad sets out to Gaema Plateau on a special mission to escort marines smuggling explosives to the enemy camp. However, Private Yang Sanggil delayed the mission when he runs away to see his mother.

When Lieutenant Lee Sugyeong and her squad finds a group of dead South Korean soldiers, she fears the worst that Sergeant Lee might be dead. However, Sergeant Lee and his squad are actually stuck in a snowy forest.

Private Jung Taek Soo is shot but he is rescued by Sergeant Lee. General Park orders all soldiers to head toward Shinheung camp through the bitter winter forest.

General Park and Sergeant Lee's squad escaped from the enemy's headquarter. Meanwhile, Captain Lee Sugyeong gets demoted to Lieutenant.

Private Chun and General Park are sent to the North Korean Volunteer Army headquarter. When Sergeant Lee is sent to rescue General Park, he finally comes face to face with Captain Lee Sugyeong of the North Korean Army.

Sergeant Lee and his squad are rescued by a guerrilla unit. After running away, Private Chun disguises himself as a North Korean soldier and along the way captures General Park.

It's October 1950, Sergeant Lee and his Eagle regiment successfully attacked and captured North Korea's capital, Pyeongyang. However, the North Korean army has backup soldiers sent from People's Liberation Army.
If You Like Comrades, Then Try...