Watch Country House Rescue
Country House Rescue is a British documentary series that is narrated by Hugh Bonneville. In each episode, an expert visits a down on its luck country house and gives advice, help, and suggestions for improvement to the property owner. Ruth Watson and Simon Davis both filled that expert role in various episodes. The show has aired for four seasons so far and there have been 39 episodes that have been broadcast to date. The first episode of the series had its premiere On December, 9th 2008 and was set in Stawley Somerset. In that episode, Ruth Watson worked with the owners to help restore the historic Cothay Manor. The ideas that she presented to the owners, Mary-Anne and Alistair Robb, included planning a calendar of fun events for guests and upgrading the refreshment facilities.
Later in that first series, Ruth Watson helped Adrian and Caroline Goodall through more than a refinement of Black Clauchrie House. The property is a former hunting lodge with many acres of plush forest and fields in South Ayrshire. The stress of their investment of Black Clauchrie House not only was affecting their finances but was having a hand in damaging their marriage as well. Watson also played relationship counselor in helping the couple turn their home's heritage and beauty into a money making business.
The first season lasted nine episodes. After that first run, the series aired three episodes to follow up on properties a year after their first visit. They went back to Cothay Manor, Albury Park and Black Clauchrie House to see how the business has done since Country House Rescue had been there to offer upgrades and improvements.
Simon Davis made his first appearance as an expert in episode one of series four. He visited Colebrooke Park in Northern Ireland. Simon had a struggle his first time out, trying to persuade the owners to keep their home open by adding a spa and resort area in the home.
4 Seasons,

39

Episodes

December 31, 1969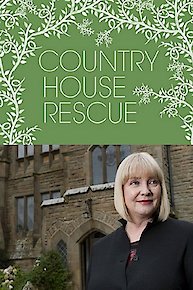 Country House Rescue

Full Episode Guide
Episode

6

-

Series 4 Episode 6

Hidden in 600 acres in Ayrshire, Craufurdland has been the castle home of the Craufurd family since 1245, but constant maintenance of the fragile property has become a huge financial drain

Episode

5

-

Series 4 Episode 5

Simon visits the Cookson family of Meldon Park, Northumberland, and tries to persuade them to make a go of running a money-making cafe in the estate's walled garden

Episode

4

-

Series 4 Episode 4

Great Fulford is a listed manor house near Exeter that's crumbling away in parts. Can Simon get Francis and Kishanda Fulford to exploit their ancient home's money-making potential?

Episode

3

-

Series 4 Episode 3

Simon visits County Cork, Ireland, where the Shelswell-White family need a business plan to clear the estate's debts as their daughter prepares to take over

Episode

2

-

Series 4 Episode 2

Episode

1

-

Series 4 Episode 1
Episode

15

-

Hill Place Revisit

Episode

14

-

Riverhill House - revisit

Episode

13

-

Plas Tag - revisit

Episode

12

-

Heath House - Revisit

Episode

11

-

Abbey Dore Court - revisit

Episode

6

-

Garston Manor

Episode

5

-

Kentchurch Court

Episode

4

-

Trereife House

Episode

1

-

Wyresdale Hall
If You Like Country House Rescue, Then Try...