Watch D-Day: The Total Story
The critical hours when the Allied command unleashed its forces on the beaches of Normandy on June 6, 1944, D-Day. Includes archival combat footage, vintage stills and eyewitness accounts.
1 Season,

6

Episodes

9/10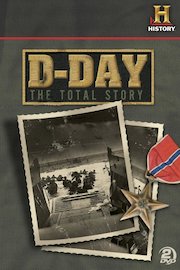 D-Day: The Total Story

Full Episode Guide
Episode 6 - Dear Home: Letters from World War II

A moving, memorable look at World War II told through the letters of its soldiers and others who were on the battlefield.

Episode 5 - The True Story of the Screaming Eagle...

From the night jumps at Omaha Beach to their battles in Vietnam, the 101st Airborne are one of the most celebrated forces in the U.S. military.

Episode 4 - Eisenhower: Commander in Chief

An inside look at Dwight D. Eisenhower, from his childhood days in Kansas, to becoming the supreme commander of the Allied Forces in World War II.

Through actual combat footage and firsthand accounts, "Breakout" takes an unprecedented look at at the strategies and convictions that shaped D-Day.
If You Like D-Day: The Total Story, Then Try...