Watch Davis Rules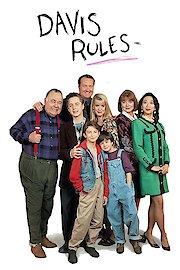 Davis Rules

Full Episode Guide
Episode 16 - The Girl With Someone Extra

Dwight arrives home to find that Erika is coming for a visit.

Episode 15 - Brother, Can You Spare a Dime?

Now that she has a job, Gwen is getting a bit carried away buying fun things for herself and the family.

Gwen's lonely, so Dwight and Gunny decide to find her a date.

Episode 13 - Everybody Comes to Nick's

Gwen prepares for a Saturday night out with the girls.

Episode 11 - Strike Down the Band

Episode 10 - Bells, Bells, Bells

Episode 9 - Someone to Watch Over Them

Episode 8 - Happy As a Clam

Episode 6 - Love at First Sighting, Pt. 2

Episode 5 - Love at First Sighting, Pt. 1

Episode 4 - The Moment of Youth

Episode 3 - Writing a Wrong

Episode 2 - A Father Makes All the Difference

Episode 1 - They're Writing Songs of Love, But N...
Episode 12 - Mission: Improbable

Episode 11 - Habla Espanol?

Episode 10 - Sign of the Times

Episode 9 - Take This Job and Love It

Episode 8 - Twisted Sister

Episode 7 - Gimme the Ball

Episode 6 - Yes, I'm the Great Pretender

Episode 5 - Pomahac Day Massacre

Episode 4 - Guys and Dolls

Episode 3 - The Trouble with Woman

Episode 2 - Rules of the Game

Episode 1 - A Man for All Reasons