Watch Despierta América
Despierta América (trans. "Wake Up, America!") is a Spanish language morning talk show aimed at Spanish-speaking Americans. The show is filmed in Miami, FL but the cast comes from diverse backgrounds. Despierta América has a large cast of hosts with various specialties. It is common for celebrities of the Spanish-speaking world to temporarily fill in as hosts when any of the regular cast takes time off.
The hosts present various segments such as celebrity and special interest interviews, celebrity gossip, current affairs, news, weather, and more. These segments are peppered with off the wall humor and silliness.
A regular segment called "échate pa' acá" (trans. "Come here"), focuses specifically on Spanish-speaking entertainers and celebrities. This segment proved popular with viewers and influenced similar versions on rival shows.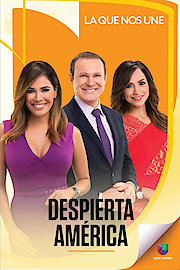 Despierta América

Full Episode Guide
Season 18
(3 clips available)
Episode 501 - Xavi Ondo Salió de Lo Hondo y Se ...

El profesor Xavi Ondo visitó a las chicas de Nuestra Belleza y las orientó ante sus congojas.
Season 17
(847 clips available)
Episode 259 - Vie. Dic. 27, 2013

Escucha bien los enredos que se arman cuando el viejito interrumpe en Despierta América.

Episode 229 - Vie, Nov 15, 2013

Claudia Molina hizo una rutina de ejercicios para principiantes. Receta de Pasta Cabello de Angel, con champiñones.

Episode 228 - Jue, Nov 14, 201

Tecnología en tu móvil que te ayuda a bajar de peso. Conoce a estos increíbles animales oriundos de climas fríos.

Episode 227 - Mié, Nov 13, 2013

Episode 226 - Mar, Nov 12, 2013

Episode 225 - Lun, Nov 11, 2013

Episode 224 - Vie, Nov 8, 2013

Episode 223 - Jue, Nov 7, 2013

Episode 222 - Mié, Nov 6, 2013

Episode 221 - Mar, Nov 5, 2013

Episode 220 - Lun, Nov 4, 2013

Episode 219 - Vie, Nov 1, 2013

Episode 218 - Jue, Oct 31, 2013

Episode 216 - Mar, Oct 29, 2013

Episode 215 - Lun, Oct 28, 2013

Episode 214 - Vie, Oct 25, 2013

Episode 213 - Jue, Oct 24, 2013

Episode 211 - Mar, Oct 22, 2013

Episode 210 - Lun, Oct 21, 2013

Episode 209 - Vie, Oct 18, 2013

Episode 208 - Jue, Oct 17, 2013

Episode 207 - Mié, Oct 16, 2013

Episode 206 - Mar, Oct 15, 2013

Episode 205 - Lun, Oct 14, 2013

Episode 204 - Vie, Oct 11, 2013

Episode 203 - Jue, Oct 10, 2013

Episode 202 - Mié, Oct 9, 2013

Episode 201 - Mar, Oct 8, 2013

Episode 200 - Lun, Oct 7, 2013

Episode 199 - Vie, Oct 4, 2013

Episode 198 - Jue, Oct 3, 2013

Episode 197 - Mié, Oct 2, 2013

Episode 196 - Mar, Oct 1, 2013

Episode 195 - Lun, Sep 30, 2013

Episode 194 - Vie, Sep 17, 2013

Episode 193 - Jue, Sep 26, 2013

Episode 192 - Mié, Sep 25, 2013

Episode 191 - Mar, Sep 24, 2013

Episode 190 - Lun, Sep 23, 2013

Episode 189 - Vie, Sep 20, 2013

Episode 188 - Jue, Sep 19, 2013

Episode 187 - Mié, Sep 18, 2013

Episode 186 - Mar, Sep 17, 2013

Episode 185 - Lun, Sep 16, 2013

Episode 183 - Jue, Sep 12, 2013

Episode 182 - Mié, Sep 11, 2013

Episode 181 - Mar, Sep 10, 2013

Episode 180 - Vie, Sep 6, 2013

Episode 179 - Jue, Sep 5, 2013

Episode 177 - Conoce al 'Juguero' de Famosos Como ...

Episode 176 - Mar, Sep 3, 2013

Episode 175 - Lun, Sep 2, 2013

Episode 174 - Vie, Ago 30, 2013

Episode 173 - Jue, Ago 29, 2013

Episode 172 - Mié, Ago 28, 2013

Episode 171 - Crecen los Accidentes por Peatones D...

Episode 170 - Lun, Ago 26, 2013

Episode 169 - Vie, Ago 23, 2013

Episode 168 - Jue, Ago 22, 2013

Episode 167 - Mié, Ago 21, 2013

Episode 166 - Mar, Ago 20, 2013

Episode 165 - Lun, Ago 19, 2013

Episode 164 - Vie, Ago 16, 2013

Episode 163 - Jue, Ago 15, 2013

Episode 162 - Mié, Ago 14, 2013

Episode 161 - Mar, Ago 13, 2013

Episode 160 - Maquíllate a Prueba de Calor y Ag...

Episode 159 - Vie, Ago 9, 2013

Episode 158 - Jue, Ago 8, 2013

Episode 157 - Mié, Ago 7, 2013

Episode 156 - Mar, Ago 6, 2013

Episode 155 - Lun, Ago 5, 2013

Episode 154 - Vie, Ago 2, 2013

Episode 153 - Jue, Ago 1, 2013

Episode 152 - Mié, Jul 31, 2013

Episode 151 - Mar, Jul 30, 2013

Episode 150 - Lun, Jul 29, 2013

Episode 149 - Vie, Jul 26, 2013

Episode 148 - Jue, Jul 25, 2013

Episode 147 - Mié, Jul 24, 2013

Episode 146 - Mar, Jul 23, 2013

Episode 145 - Lun, Jul 22, 2013

Episode 144 - Vie, Jul 19, 2013

Episode 142 - Mié, Jul 17, 2013

Episode 141 - Mar, Jul 16, 2013

Episode 140 - Lun, Jul 15, 2013

Episode 139 - Vie, Jul 12, 2013

Episode 138 - Jue, Jul 11, 2013

Episode 137 - Mié, Jul 10, 2013

Episode 136 - Mar, Jul 9, 2013

Episode 135 - Lun, Jul 8, 2013

Episode 134 - Vie, Jul 5, 2013

Episode 133 - Jue, Jul 4, 2013

Episode 132 - Mié, Jul 3, 2013

Episode 131 - Mar, Jul 2, 2013

Episode 130 - Lun, Jul 1, 2013

Episode 129 - Vie, Jun 28, 2013

Episode 128 - Jue, Jun 27, 2013

Episode 127 - Mié, Jun 26, 2013

Episode 126 - Mar, Jun 25, 2013

Episode 125 - Lun, Jun 24, 2013

Episode 124 - Vie, Jun 21, 2013

Episode 123 - Jue, Jun 20, 2013

Episode 122 - Mié, Jun 19, 2013

Episode 121 - Mar, Jun 18, 2013

Episode 120 - Lun, Jun 17, 2013

Episode 119 - Vie, Jun 14, 2013

Episode 118 - Jue, Jun 13, 2013

Episode 117 - Mié, Jun 12, 2013

Episode 116 - Mar, Jun 11, 2013

Episode 115 - Lun, Jun 10, 2013

Episode 114 - Vie, Jun 7, 2013

Episode 113 - Jue, Jun 6, 2013

Episode 112 - Mié, Jun 5, 2013

Episode 111 - Mar, Jun 4, 2013

Episode 110 - Lun, Jun 3, 2013

Episode 109 - Vie, May 31, 2013

Episode 108 - Jue, May 30, 2013

Episode 107 - Mié, May 29, 2013

Episode 106 - Mar, May 28, 2013

Episode 105 - Lun, May 27, 2013

Episode 104 - Vie, May 24, 2013

Episode 103 - Jue, May 23, 2013

Episode 102 - Mié, May 22, 2013

Episode 101 - Mar, May 21, 2013

Episode 100 - Lun, May 20, 2013

Episode 99 - Vie, May 17, 2013

Episode 97 - Mié, May 15, 2013

Episode 96 - Mié, May 14, 2013

Episode 95 - Lun, May 13, 2013

Episode 94 - Vie, May 10, 2013

Episode 93 - Jue, May 9, 2013

Episode 92 - Mié, May 8, 2013

Episode 91 - Mar, May 7, 2013

Episode 90 - Lun, May 6, 2013

Episode 88 - Jue, May 2, 2013

Episode 87 - Mié, May 1, 2013

Episode 86 - Mar, Abr 30, 2013

Episode 85 - Lun, Abr 29, 2013

Episode 84 - Vie, Abr 26, 2013

Episode 83 - Jue, Abr 25, 2013

Episode 82 - Mié, Abr 24, 2013

Episode 81 - Mar, Abr 23, 2013

Episode 80 - Lun, Abr 22, 2013

Episode 79 - Vie, Abr 19, 2013

Episode 78 - Jue, Abr 18, 2013

Episode 77 - Mié, Abr 17, 2013

Episode 76 - Mar, Abr 16, 2013

Episode 75 - Lun, Abril 15, 2013

Episode 74 - Vie, Abr 12, 2013

Episode 73 - Jue, Abr 11, 2013

Episode 72 - Mié, Abr 10, 2013

Episode 71 - Mar, Abr 9, 2013

Episode 70 - Lun, Abr 8, 2013

Episode 69 - Vie, Abr 5, 2013

Episode 68 - Jue, Abr 4, 2013

Episode 67 - Mié, Abr 3, 2013

Episode 66 - Mar, Abr 2, 2013

Episode 65 - Lun, Abr 1, 2013

Episode 64 - Vie, Mar 29, 2013

Episode 63 - Jue, Mar 28, 2013

Episode 62 - Mié, Mar 27, 2013

Episode 61 - Mar, Mar 26, 2013

Episode 60 - Lun, Mar 25, 2013

Episode 59 - Vie, Mar 22, 2013

Episode 58 - Jue, Mar 21, 2013

Episode 57 - Mié, Mar 20, 2013

Episode 56 - Mar, Mar 19, 2013

Episode 55 - Lun, Mar 18, 2013

Episode 54 - Vie, Mar 15, 2013

Episode 53 - Jue, Mar 14, 2013

Episode 52 - Mié, Mar 13, 2013

Episode 51 - Mar, Mar 12, 2013

Episode 50 - Lun, Mar 11, 2013

Episode 49 - Vie, Mar 8, 2013

Episode 48 - Jue, Mar 7, 2013

Episode 47 - Mié, Mar 6, 2013

Episode 46 - Mar, Mar 5, 2013

Episode 45 - Lun, Mar 4, 2013

Episode 44 - Vie, Mar 1, 2013

Episode 43 - Jue, Feb 28, 2013

Episode 42 - Mié, Feb 27, 2013

Episode 41 - Mar, Feb 26, 2013

Episode 40 - Lun, Feb 25, 2013

Episode 39 - Vie, Feb 22, 2013

Episode 38 - Jue, Feb 21, 2013

Episode 37 - Mié, Feb 20, 2013

Episode 36 - Mar, Feb 19, 2013

Episode 35 - Lun, Feb 18, 2013

Episode 34 - Vie, Feb 15, 2013

Episode 33 - Jue, Feb 14, 2013

Episode 32 - Mie, Feb 13, 2013

Episode 31 - Mar, Feb 12, 2013

Episode 30 - Lun, Feb 11, 2013

Episode 29 - Vie, Feb 8, 2013

Episode 28 - Jue, Feb 7, 2013

Episode 27 - Mié, Feb 6, 2013

Episode 26 - Mar, Feb 5, 2013

Episode 25 - Lun, Feb 4,2013

Episode 24 - Vie, Feb 1, 2013

Episode 23 - Jue, Ene 31, 2013

Episode 22 - Mié, Ene 30, 2013

Episode 21 - Mar, Ene 29, 2013

Episode 20 - Lun, Ene 28, 2013

Episode 19 - Vie, Ene 25, 2013

Episode 18 - Jue, Ene 24, 2013

Episode 17 - Mié, Ene 23, 2013

Episode 16 - Mar, Ene 22, 2013

Episode 15 - Lun, Ene 21, 2013

Episode 14 - Vie, Ene 18, 2013

Episode 13 - Jue, Ene 17, 2013

Episode 12 - Mie, Ene 16, 2013

Episode 11 - Mar, Ene 15, 2013

Episode 10 - Lun, Ene 14, 2013

Episode 9 - Vie, Ene 11, 2013

Episode 8 - Jue, Ene 10, 2013

Episode 7 - Mie, Ene 9, 2013

Episode 6 - Mar, Ene 8, 2013

Episode 5 - Lun, Ene 7, 2013

Episode 4 - Vie, Ene 4, 2013

Episode 3 - Jue, Ene 3, 2013

Episode 1 - Mar, Ene 1, 2013
Season 16
(39 clips available)