Watch Destination Wild
Love wild vacations, out of the way places and daring adventures? Destination Wild, a 30 minutes travel show hosted by Courtney Hansen, is waiting for you. This one of a kind travel adventure show follows the host as she visits various exotic and unique vacation destinations. What good is a boring vacation, when nonstop adventure awaits in one of many locations, including Park City, Utah or Yellowstone, Montana?
Destination Wild is not for the laid back traveler. This show caters to those who love constant action. Whether dog sledding, heli-skiing or surfing the waves, host Courtney Hansen and her expert guides show what it takes to have a wild adventure in these great destinations.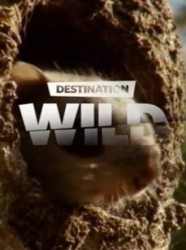 Destination Wild

Full Episode Guide
Episode 14 - A Whale's Tale

Sheltered by an ancient land mass that was forged by volcanoes, the nutrient-rich waters around the Canary Islands attract a huge variety of life. A small pod of short-finned pilot whales have journeyed a long way from the southern waters to rest in this unique ecosystem, and they will call these waters home for the next few months.

Episode 13 - Giant Sea Serpent

The giant oarfish, the largest bony fish in the world, was known only by rare examples, usually ones that died by stranding. With the help of the world's expert in giant oarfish and logistic collaboration with enthusiasts, a scientific expedition reveals the biology of this enigmatic ambassador of the abyss.

Episode 12 - Surfing & Woodies on the Wharf, Santa...

Lauren Abraham, Destination Wild?s adventure guide, packs up for Santa Cruz, California. There, the Wharf is the perfect setting for a celebration of the surf, spirit and music as thousands of surfers, more than 250 pre-1950s Woodies show up to celebrate the California surf scene. Lauren suits up for a ride, checks out the rock concert and the history of its legendary saltwater taffy. We also meet up with surf legend Jack O'Neill, inventor of the wetsuit to find out if Santa Cruz is the real Surf City USA. Then, it is down the coast on US 1 for some wine tasting and, then, calling it a day at a hotel and spa with a touch of class.

Episode 11 - Heli-skiing & Sundance Film Fest, Par...

Actually, we should call this heli-riding. Courtney teams up with Park City local, Hannah Hardaway, in search of powder in the Utah backcountry. The girls show us everything that is needed for the heli-riding adventure. Courtney then hits the town of Park City, where ski bums and A-list Hollywood stars alike party at the Sundance Film Festival.

Episode 10 - Skiing the USFSO, Vail and Copper Mou...

Episode 9 - Rock Climbing & Bouldering, Telluride...

Episode 8 - Dude Ranch and Rodeo, Tucson, AZ

Episode 7 - Fly-Fishing in Big Sky Country, Yello...

Episode 6 - Snow-Mobiling & Dog-Sledding, Togwote...

Episode 5 - Deep Sea Fishing - Savannah, GA

Episode 4 - Off-Road Jeeping - Easter Jeep Safari...

Episode 3 - Ocean Kayaking, Seattle, WA

Episode 2 - Sturgis Rally - Bike Week, Black Hill...

Episode 1 - Whitewater Rafting, Breckinridge, CO