Watch Detroit in Overdrive
Detroit once was known for dominating the world's automotive production and it's one of a kind blue-collar work ethic. However, global competition, a global recession, and a declining population have taken a toll on what was once America's backbone. Despite all the challenges, die-hard Detroiters will not give up on restoring this once thriving metropolis.
Thursday 8:00 PM et/pt on Planet Green

1 Season,

3

Episodes - Currently Airing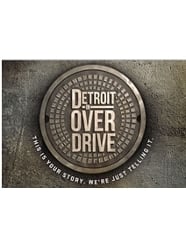 Detroit in Overdrive

Full Episode Guide
Episode 3 - It Takes a Village

The Russell Industrial Center, originally an auto body plant in the 20s is now a community of artists and small businesses. Later, a college student designs a heat-capturing coat that turns into a sleeping bag for the homeless.

Episode 2 - Art Saves Detroit

A world renowned artist decides to display 10,000 shoes to bring attention to Detroit's homeless population. And the college dreams of high school trumpet player China may rest on her acing a big audition and winning a music scholarship.

Episode 1 - Reinventing the Motor City

A Project Runway Alum takes on a huge challenge - jumpstarting Detroit's garment district. Kid Rock hopes to generate jobs with his own beer label. And with 450 years of combined service to GM the Bradburn family must adapt to changing times and a shifting economy.
If You Like Detroit in Overdrive, Then Try...