Watch Dinner: Impossible
Dinner: Impossible, from Food Network, follows celebrity chef Robert Irvine, and for one season guest chef Michael Symon, and their crews as they are sent to top secret destinations in order to set up a themed dinner in a limited amount of time. Neither Robert nor Michael are told in advance where they will be sent for the challenge, they only find out when they receive a Mission: Impossible themed kind of secret message. The message includes all of the information the chefs need to complete their task from the location of the meal, whom the meal is for and any special challenges that may be part of this particular mission.
While on the missions, Robert and Michael work with a number of seasoned sous chefs, including David Britton, Lee Lucier, George Galati and George Kralle, all of whom are very familiar with the hectic pace of preparing these special meals. In addition, Robert and Michael have some special guests who help out on certain missions from fellow Food Network celebrity Guy Fieri, to people who are less in the know regarding food preparations like students from the University of North Carolina, who help Robert and his crew with an especially hard dorm room challenge.
Robert and Michael are also thrown a number of curve balls after arriving at their Dinner: Impossible locations in regards to the menus and meals. Some examples of these curve balls are when Robert and his crew head to the headquarters of Ben & Jerry's and have to plan their whole menu around some of the company's craziest ice cream flavors. Another challenge, based on the television program Lost, finds Robert and his fellow chefs unable to cook on anything but the most basic of cooking surfaces. The chefs race around preparing a world class dinner as the timer counts them down towards success or failure.
Dinner: Impossible is a fun show that helps teach viewers the creative ways in which every day items can be used to create delicious meals that appeal to a wide variety of guests.
Wednesday 10:00 PM et/pt on

Food Network

8 Seasons,

77

Episodes - Canceled/Ended

January 24, 2007

Reality

10

/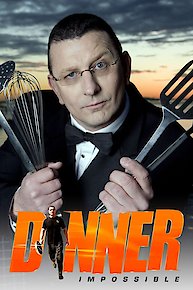 Dinner: Impossible

Full Episode Guide
Episode

13

-

Spring Training Tangle

Chef Robert must create a meal for the major and minor league Philadelphia Phillies baseball players.

Episode

11

-

Impossible: Caffeine Crash

Robert's mission is to make a meal using coffee or tea in every dish.

Episode

8

-

Impossible: Judgment Day

Robert divorces some tired food marriages and rematches them into new pairs.

Episode

7

-

Impossible: Speed Dating Downfall

Robert creates a date friendly meal for 100 speed daters.

Episode

6

-

Mission in the Mud

Episode

5

-

Impossible: Pirate Peril

Episode

4

-

Impossible: Ironman Obstacles

Episode

3

-

Impossible: Dorm Food Doom

Episode

2

-

Impossible: Boxed in: Terminal Troubl...
Episode

13

-

Robert And Guy's Holiday Havoc

Episode

12

-

Newseum: Museum Mayhem

Episode

11

-

WWE: A Mission on the Mat

Episode

10

-

Double Jeopardy

Episode

9

-

Rock & Roll Hall of Fame: Rock the Ch...

Episode

8

-

Sesame Street Scramble

Episode

6

-

Ice Cream Meltdown

Episode

5

-

Food Court Fiasco

Episode

4

-

Feeding Frenzy at the Zoo

Episode

3

-

Amusement Park Adventure

Episode

2

-

Candy Catastrophe

Episode

1

-

Roller Derby Debacle
If You Like Dinner: Impossible, Then Try...