Watch Donna Decorates Dallas
Donna Decorates Dallas is a design show on the HGTV Network. The series stars Donna Moss, an interior designer from Texas who transforms lavish upscale homes in the Dallas suburb of Texas into beautiful showplaces for elite clients. She is known as the Queen of Bling to her clients. Donna, her husband and two daughters, own a successful family-run design boutique called That's Haute!. Her signature choices with every room she transforms includes sparking crystal accents, feathers, and animal prints. Donna has won many awards in design and her work has been in many magazines since the 1980's when her business first began.
Donna, and a team of wood workers, skilled artisans, contractors, and painters, assist her with transforming spaces into fabulous showplaces. Favoring Old World and Tuscan styles, her designs include Gothic tones, animal prints, crystal chandeliers, and wrought iron motifs. Her money no object clients put their complete trust in Donna to transform their indoor and outdoor rooms into fabulous spaces.
Each week, Donna consults with clients at their homes in an effort to get an understanding of what type of look they want to achieve. The jaw dropping sizes of the homes takes your breath away as you view these beautiful spaces. After the initial client consultation, Donna then consults with her team as to what wall treatment, furniture piece, accessory choice, and paint color she would like to implement into the space. Some of the pieces selected are from her boutique. She also goes with the client to an appointment only design center where they choose pillows, wall sconces, furniture, candles, area rugs, and other choices. The transformation begins as the room starts to take shape as Donna solves issues with scale, placement, and color compatibility.
By the end of the episode, Donna reveals the beautiful transformation to the client, to their amazement and surprise. With everything perfectly placed, it is truly a remarkable sight and gives credence to the notion that everything is truly bigger in Texas!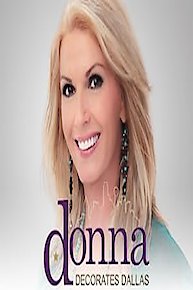 Donna Decorates Dallas

Full Episode Guide
Episode

7

-

Big and Bold Old World Study Transfor...

Episode

6

-

Family Rec Room Music Studio Makeover

Jennifer lives in a marvelous house, with an enormous but underutilized game room that she wants to turn into a dynamic, multi-purpose family room the whole family can enjoy.

Episode

5

-

Tropical Back Yard Party Paradise

Tim and Cindy Giles love their new home, but it doesn't have a place to entertain. First up on their to do list is to create an extensive outdoor living area that will facilitate the couple's love of having friends and neighbors over for parties by the pool.

Episode

4

-

Bedroom Makeover Surprise

Former professional football player Russell Maryland and his wife Rose want to give their eldest daughter Kayra a nice surprise for her fifteenth birthday - her own bedroom. They call upon Donna to convert a drab guest bedroom in to a truly elegant space that reflects the fact that a sophisticated young woman will inhabit the room, but which also has elements of youthful whimsy.

Episode

3

-

Grand and glamorous Tuscan entryway a...

Episode

2

-

Vintage Modern Kitchen Transformation

Episode

1

-

Football Pro's Dramatic Bedroom Redo
Episode

14

-

Eclectic Living Room Makeover

Episode

13

-

Flooded Ground Floor Makeover

Episode

12

-

Donna Decorates for Christmas

Episode

11

-

Massive Master Suite Challenge

Episode

10

-

Donna creates a breathtaking backyard...

Episode

9

-

Donna gives a client's empty dining r...

Episode

8

-

Donna gives her guest room a bold Mor...

Episode

7

-

A Funky Man Cave Media Room

Episode

6

-

A Rustic Hunting Lodge Themed Bedroom

Episode

5

-

Personalizing a Dining Room for a Col...

Episode

4

-

Donna Turns a Bland and Boring

Episode

3

-

Donna Transforms a Young Lady's

Episode

2

-

Donna's Signature Touch Adds Grandeur...

Episode

1

-

Bland to Grand Master Bedroom