Watch Don't Trust the B---- in Apt 23
Don't Trust the B---- in Apt 23 is a sitcom that premiered in April 2012 on ABC. Just as the written title censors the implied curse word, the show's theme song has the sound of a buzzing doorbell cover up the offending word in the lyrics. The show follows the adventures of June Colburn (played by Dreama Walker), who moves from Indiana to New York City. She has a dream job and a dream fiance, and life couldn't be better. She's so excited about her new life, she's not even worried about her roommate Chloe, the "b---- in apartment 23" (played by Krysten Ritter), who she discovers is a manipulative, lying, amoral party girl. However, the company is shut down for fraud on June's first day on the job, and then June finds out her fiance has been cheating on her. She is left with nothing but decides to stick it out in New York instead of heading back home, and she begins to suspect that while Chloe might sometimes be a terrible roommate, she's not entirely a terrible person.
June and Chloe are the main characters of the show, but one of the biggest supporting characters is James Van Der Beek, who plays a fictionalized version of himself. In the show, he and Chloe are best friends. He frequently gets his own subplot where he tries a new tactic to revive his career, such as launching a clothing line or appearing on Dancing With the Stars. Other recurring characters include Chloe's former roommate Robin, who fell in love with Chloe when they roomed together and now stalks her (played by Liza Lapira), June and Chloe's creepy peeping-tom neighbor Eli (played by Michael Blaiklock), and June's former supervisor Mark, who works with June at a coffee shop after the company closes down (played by Eric Andre).
Watch Full Episodes of Don't Trust the B---- in Apt 23

Season 2 Episode 19
Original Bitch (21:39)
Season 2 Episode 18
Ocupado (21:31)
Season 2 Episode 17
Using People (21:41)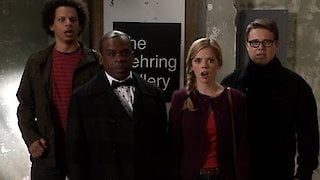 Season 2 Episode 16
The Seven Year Bitch (21:33)
Season 2 Episode 15
The D
Season 2 Episode 14
Teddy Trouble

Don't Trust the B---- in Apt 23

Full Episode Guide
Season
2
19 full episodes
Episode

19

-

Original Bitch

Chloe hunts for her first roommate, she wants revenge.

Chloe gets jealous of Ben's other sexual partners.

Episode

17

-

Using People

June finds out that Chloe goes to AA meetings.

Episode

16

-

The Seven Year Bitch

On this episode Chloe tries to use her veto power to make James dump his new girlfriend.

Chloe gives June a low grade on her yearly roommate evaluation so June tries to perk up her social life.

Episode

14

-

Teddy Trouble

Chloe recruits the aid of her childhood friend Teddy to help her as she prepares for an annual department store warehouse sale.

When stress leaves June with no time for anything but work, Chloe slips her an herbal relaxant.

Chloe tries to sabotage James' "Dancing With the Stars" training regimen; embarrassing photos of James spread across the Internet.

Episode

11

-

Dating Games

June and Mark are obsessed with a reality dating show, and Chloe persuades June to become a participant. But what happens when Chloe and June end up asking the same guy out?

Chloe is unsure about being best friends with June.

Episode

9

-

The Scarlet Neighbor

June and Chloe attend their first tenants' meeting and create a scene. June soon realizes that she needs to help Chloe clean up her image so they don't get a bad reputation.

June's first day at Harken Financial goes surprisingly well, and she even meets an incredibly nice co-worker, Fox Paris. Chloe cautions June to be careful.

Episode

7

-

A Weekend in the Hamptons...

Chloe tries to teach June a lesson in honesty, until she starts questioning her own morals. Plus, James makes his debut on "Dancing With the Stars."

Episode

5

-

Whatever It Takes...

Chloe educates June on the meaning of "network," but when Chloe lands herself a hot young broker whose father is a Wall Street mogul, she also works a little magic for June!

Episode

4

-

It's a Miracle...

Although Chloe and June disagree about Thanksgiving , June can't afford to fly home this year, so Chloe convinces her to come with her to her parents' house for the holiday.

Episode

3

-

Sexy People...

June is engrossed in PEOPLE magazine's annual Sexiest Man Alive issue and Chloe tells her she shouldn't let a magazine tell her what's sexy. To prove her point, Chloe goes to PEOPLE offices to request they put James on the cover this year. James is thrilled and now June finds him irresistibly attractive.

Episode

2

-

Love and Monsters...

June anticipates her favorite holiday of the year - Halloween. However Chloe's annual elaborate Halloween pranks start tainting the excitement.

In the second season premiere, James gets a letter asking to do a Dawson's Creek reunion show.
Episode

7

-

Shitagi Nashi...

Episode

6

-

It's Just Sex...

Chloe tries to convince June to have casual sex with the soy latte guy.

Episode

5

-

Making Rent...

After struggling to make ends meet, June becomes innovative to make some extra cash; James launches a line of super-skinny jeans.

Episode

4

-

The Wedding...

June becomes depressed when she receives a wedding invitation, so Chloe tries to give her more confidence - but in the process gives her a little too much.

June can usually manage her demanding schedule, until she must clean up one of Chloe's ideas. James is thrilled to land an opportunity in a classic body-swapped movie with Kiernan Shipka.

Episode

2

-

Daddy's Girl...

June begrudgingly lets Chloe set her up on a date.

In the series premiere, June seeks revenge on her new roommate for scamming her. Ultimately, she gains a new friend and is educated on survival 101 in New York City.
If You Like Don't Trust the B---- in Apt 23, Then Try...
Don't Trust the B---- in Apt 23 News