Watch Dr. 90210
Dr. 90210 is a reality television series that was created and designed by the E! entertainment channel network. The on air design art director is Phil Han, along with Executive Producer Dione Li. Also involved in its creation are Senior Vice President and Creative Director, Ann Epstein-Cohen and Director of Photography, Joel Lipton.
The show focuses upon plastic surgery in the wealthy areas near Los Angeles, California, such as in Beverly Hills. The series name represents the familiar zip code of the region that the series is most centered in.
The series is also broadcast regularly on other basic cable networks, such as the Style channel. Each episode lasts approximately one hour and it is distinctive from others, since it also examines the personal lives of the doctors that are featured.
At the start of the series, the show features Dr. Robert Rey, a Brazilian born plastic surgeon specializing in breast augmentation. Along with him, his wife, Hayley Rey from Quebec and children Sydney and Robby are featured. Their lives in Beverly Hills are portrayed, including situations such as relocating to a larger house with their three Chihuahuas and German Shepherd.
Dr. 90210 includes patient interviews and semi-graphic coverage of surgeries, both before and after the procedures. Dr. Rey is noted also for his work with celebrity patients, for example, John Travolta's niece. Patients desiring breast augmentation are displayed with markings to show where surgical procedures will be performed. The doctor examinations of patient breasts are shown with their aureolas covered for modesty.
Other doctors featured in the series have included surgeons Dr. Kotler and Dr. Richard Ellenbogen, also in the Beverly Hills region. The show further expanded to include the practices of Dr. Jason Diamond, Dr. Gary Alter, Dr. Kevin Sands, Dr. William Aiello, Dr. David Matlock, Dr. Gary Motykie, Dr. Bal Rajagopalan and Dr. Dean Manus. The show also featured Dr. Paul Nassif on a few episodes.
The only female doctors featured on the show are Dr. Linda Li and Dr. Susan Evans, the wife of Dr. Brian Evans. One other notable featured doctor is Dr. Will Kirby, who is the Big Brother 2 winner and an authority on the removal of laser tattoos.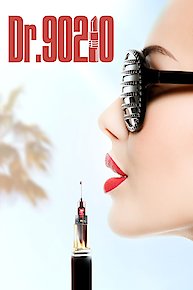 Dr. 90210

Full Episode Guide
Episode

8

-

Buttock's Are a Girl's Best Friend

Li and Fulcher celebrate their anniversary. Rey and Haley have an argument and then travels to Utah for some advice from his adoptive parents.

Episode

7

-

Blonde's Eye View

A woman receives help for an ear problem; and Haley plans on moving away from the Rey's home.

Dr. Rey makes an attempt to reconcile with his mother-in-law. A pair of sisters want their breasts to match each others. A transgender patient is given help.

Episode

5

-

Behind the Mask

An actress, Tabitha Stevens looks to have previous surgeries reversed. Dr. Li becomes adjusted to being a stepmom. And, the Rey's head off for a trip to Tampa.

Episode

4

-

Lovely Lady Bumps

Episode

3

-

Dancing With the Scars

Episode

2

-

Mother Truckers

Episode

1

-

Slice of Life
Episode

15

-

Body Meets Soul

Episode

14

-

Reflections of the Way Life Used to B...

Episode

13

-

The Gilded Ages

Episode

12

-

Forces of Second Nature

Episode

11

-

Freedom Riders

Episode

10

-

Eye on the Prize

Episode

9

-

Rebuilt to Perform

Episode

8

-

Regeneration Gap

Episode

6

-

Hello Mother, Hello Father

Episode

5

-

Pits Stops on the Road to Perfection

Episode

4

-

Sexual Healing

Episode

3

-

The Family Ties That Bind

Episode

2

-

Hollywood Mending

Episode

1

-

The Implanted (T)