Watch Drop 5 lbs with Good Housekeeping
Melissa d'Arabian and Good Housekeeping present ways to slim down fast with slimming recipes, shopping tips, fat burning exercises and more.
Saturday 11:00 PM et/pt on Cooking Channel

2 Seasons,

12

Episodes - Currently Airing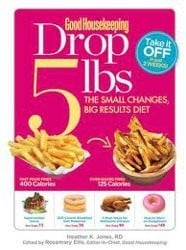 Drop 5 lbs with Good Housekeeping

Full Episode Guide
Episode 2 - Fat Can Be Your Drop 5 Friend

Episode 1 - Look and Feel Younger
Episode 10 - Find Your Balance

Good Housekeeping Nutrition Director - Samantha Cassetty - demonstrates a balanced diet and finds indulgent foods that won't pack on the pounds.

Episode 9 - Start the Day Off Right

Culinary Correspondent Aarti Sequeira has your best take-out breakfast choices...How to keep the fat from those cinnamon buns from going to yours.

Episode 8 - Working Hard and Living Healthy

Episode 7 - Energize Your Life

Episode 6 - Mom, Around Town

Episode 5 - Now That's Convenient

Episode 3 - Avoid the Party Pounds

Episode 1 - Start the Year Off Right
If You Like Drop 5 lbs with Good Housekeeping, Then Try...