Watch Drop 5 lbs with Good Housekeeping
Losing weight is never easy, but it can be a lot more manageable with this program, particularly since it's such a reasonable goal. Anyone can lose five pounds if they put in a little extra effort. There are lots of tips included here. Drinking more water and fewer sugary drinks is one simple way to cut back on the pounds. Another is to make time every day for exercise, even if it's just a couple of 10-minute walks. These are useful hints that you can continue to use for years to come as you continue in your weight loss journey.
Saturday 11:00 PM et/pt on Cooking Channel

2 Seasons,

12

Episodes - Currently Airing

January 21, 2012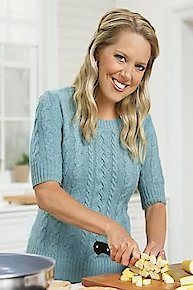 Drop 5 lbs with Good Housekeeping

Full Episode Guide
Episode

2

-

Fat Can Be Your Drop 5 Friend

Fight fat on your waist with fat on your plate! The Drop 5 team helps you lose weight by bringing healthy fats into your diet. Melissa d'Arabian prepares creamy Thai Style Coconut Chicken With Snow Peas and a classic, hearty Nicoise Salad. Samantha Cassetty dispels the myths about fats and helps you make the right choices, while Aarti Sequeira finds out what's so great about olive oil.

Episode

1

-

Look and Feel Younger

Look and feel younger with easy nutrition and exercise tips from your Drop 5 team. Melissa d' Arabian cooks up Balsamic Roasted Pork With Berry Salad and tender, flaky Flounder With Corn and Tomatoes. Samantha Cassetty shares her list of "fountain of youth" foods. Aarti Sequeira teams up with Fitness Expert JJ Virgin for some tips on how to physically feel younger through exercise.
Episode

10

-

Find Your Balance

Good Housekeeping Nutrition Director - Samantha Cassetty - demonstrates a balanced diet and finds indulgent foods that won't pack on the pounds.

Episode

9

-

Start the Day Off Right

Culinary Correspondent Aarti Sequeira has your best take-out breakfast choices...How to keep the fat from those cinnamon buns from going to yours.

Episode

8

-

Working Hard and Living Healthy

Episode

7

-

Energize Your Life

Episode

6

-

Mom, Around Town

Episode

5

-

Now That's Convenient

Episode

3

-

Avoid the Party Pounds

Episode

1

-

Start the Year Off Right
If You Like Drop 5 lbs with Good Housekeeping, Then Try...