Watch Embarrassing Bodies (US)
Embarrassing Bodies takes an in depth look at the medical conditions most consider to be embarrassing. From body hair, to warts, to rotten teeth, to scaly ears, people with these conditions are examined to hopefully find a cure.
Friday 10:00 PM et/pt on Discovery Health

1 Season,

12

Episodes - Currently Airing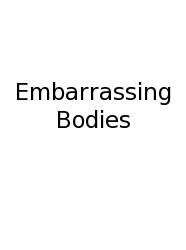 Embarrassing Bodies (US)

Full Episode Guide
Episode 10 - Snoring Beauty

A woman with decaying teeth;a woman who snores excessively.

Episode 9 - Facing the Fat

Stuart's big belly condition; Peter faces incontinence.

Episode 8 - A Hairy Situation

Episode 7 - Hot and Sweaty

Episode 6 - Virile Appeal

Episode 5 - Vacation Nightmare

Episode 4 - Injectable Relief

Episode 3 - Reducing the Shame

Episode 1 - Dental Disaster
If You Like Embarrassing Bodies (US), Then Try...