Watch Every Witch Way
Every Witch Way is a teen sitcom based off of Grachi, a Nickelodeon Latin American show. The story centers around Emma Alonso, a sixteen-year old high school student and witch. After moving to Miami, Florida, she discovers her powers as a witch and realizes she is the chosen one, a rare title given to only one mighty witch who eclipses all others in terms of magical ability and prowess. She also inherits the Hexoren Book of Spells from her mother, who passed away before the events of the show.
Emma is opposed by Maddie Van Pelt, the leader of the Panthers and most popular girl in school, as well as the school's principal, Mrs. Lafuente. Maddie and Mrs. Lafuente are both evil witches who use dark magic in the hopes of ruining Emma. Emma is supported by Lily, the school nurse, who acts as her guardian witch. Emma's boyfriend, Daniel Miller, also helps her keep Maddie's schemes at bay, despite having dated Maddie in the past.
Weekdays at 7:30 PM et/pt on Nickelodeon

3 Seasons,

64

Episodes - Currently Airing

5.7/10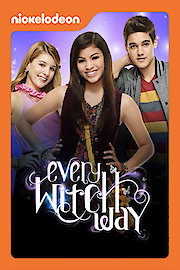 Every Witch Way

Full Episode Guide
Season 4
(62 full episodes)
Episode 19 - New Witch Order

When Emma and Mia get sucked into a videogame, it's up to their friends to save them. Lily and the Panthers try to get Gigi's memory card and prevent the Realm from being exposed.

Episode 18 - The Kanay Strikes Back

Emma and Andi struggle to turn Phillip into a human. Diego and Mia take part in a Kanay duel.

Episode 17 - Magical Throwdown

Emma and Andi attempt to turn Phillip into a human. Gigi gives her memory card to Black Hawk.

Emma and Daniel must find the kangaroo. Mia challenges Diego to a duel.

Episode 15 - Kangaroo Jax

Episode 14 - Zombie Rescue Team

Episode 13 - The Truth About Kanays

Episode 12 - Invisible Me

Episode 11 - Kanay vs. Kanay

Episode 10 - El Cristal de Caballero

Episode 8 - Spider No More

Episode 7 - No More Mr. Nice Guy

Episode 5 - Neverending Summer

Episode 4 - Breaking All the Rules

Episode 3 - It's Always You

Episode 1 - The Beachside 7
Season 3
(92 full episodes)
Episode 24 - Emma vs. Emma

Episode 20 - Andi & Philip, Sittin' in a Tree

Episode 19 - Zombie Boyfriend

Episode 18 - Beach Birthday Bash

Episode 17 - About A Wizard

Episode 16 - Stormageddon

Episode 15 - Emma Wants a Cracker

Episode 12 - The Emma Squad

Episode 11 - Double Trouble

Episode 9 - The No-Sleep Sleepover

Episode 8 - Werewolves in Siberia

Episode 5 - The Fool Moon

Episode 4 - Powers by Proxy

Episode 3 - Love Pie Redux

Episode 2 - Runaway Witch

Episode 1 - Jax Of Hearts
Season 1
(87 full episodes)