Watch Extreme RVs
Extreme RVs checks out the luxurious RVs across the country. Each episode features shops as they build out these moving mansions. Hoping to meet expectations while sticking to the budget and finishing the project on time, there's sure to be some drama.
Sunday 9:00 PM et/pt on Travel Channel

3 Seasons,

15

Episodes - Currently Airing

8/10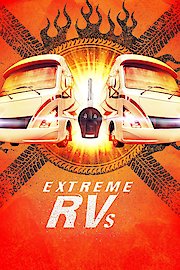 Extreme RVs

Full Episode Guide
Episode 6 - Powerhouse, John Force's Race Trailer...

Episode 5 - Hemphill Van, Space-Age Camper, Tyres...

Hemphill Brothers Coach Co. completes a $2 million tour bus; then it's off to the desert for pro racer Patrick Clark's fully customized toy hauler; and Tyrese Gibson shows off his personally designed sprinter RV.

Episode 4 - A Land Yacht and More

It's the finest Featherlite Vantare coach to-date, a Global Expedition Vehicle that will take you literally anywhere in style, and Flyte Camp brings a '47 Westwood back to life.

Episode 3 - Unicat's Off-Road Romper, Timeless Tr...

Unicat's Off-Road Romper, Timeless Travel's Airstream Hot Rod, Bespoke's 'Cushy' Caravan."

Episode 2 - Marathon Coach's Custom RV and Traile...

Episode 1 - Featherlite Luxury Coach, Thor Toy Ha...
Episode 3 - Entegra Cornerstone, Renegade IKON / ...

Episode 2 - Foretravel Iron Horse / American Heri...

Episode 1 - Newmar King Aire / Forks Continental ...