Watch Face Off
Face Off, is a SyFy Channel original reality television show. The show centers around a group of special effects makeup artists who compete for a grand prize. Their work is judged by some of Hollywood's best makeup artist and producers. Each week at the beginning of the one hour program, the contestant are given a challenge. The challenges center around a theme to change a person into whatever the challenge is for the week. There have been optical illusion challenges to make their model blend into the background image and challenges to create characters for a Tim Burton style film.
Artists are given a set amount of time to complete their challenge before going in front of the judges. The artists are being graded on a number of different elements such as painting technique and sculpting. The created characters are also judged on clothing choice and how well they fit in with the challenge. Each week a new special guest judge is announced. These judges are usually top name science fiction television and movie actors or special effects artists.
After each artists presents their creation, the judges decided who did the best and worst for that week. One contestant is sent home every week until there is only one remaining contestant. They are then chosen as the winner and receive the grand prize.
This show gives you a real behind the scenes look at what it takes to create some of the movies most iconic creatures. You are taken from start to finish as artists first sketch and then sculpt their designs. You see each persons painting techniques and how they choose the look for their character creation. Finally, you get to watch as the makeup is applied to the model revealing the full transformation from man to creature.
Watch Full Episodes of Face Off

Season 11 Episode 5
Troubling Transforma...
Season 11 Episode 4
Snow Queens (43:00)
Season 11 Episode 3
Monster High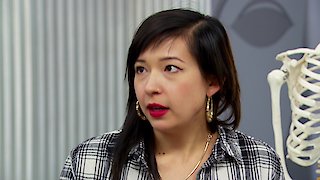 Season 11 Episode 2
The Devil Is in the ...
Season 11 Episode 1
Abstract Aliens
Season 10 Episode 14
Sinister Showdown Pa...

Face Off

Full Episode Guide
Season
11
5 full episodes
Episode

6

-

Wasteland Warriors

Episode

5

-

Troubling Transformations

The teams create two Jekyll and Hyde-inspired makeups in this elimination challenge for film director and guest judge John Landis.

In the second elimination challenge of the season, the All-Star teams work to create beautiful snow queens inspired by a series of unique snowflakes.

The artists arrive at Mattel headquarters in El Segundo, Cal., where they learn they will be creating film-ready versions of "Monster High" characters in this immunity challenge.

Episode

2

-

The Devil Is in the Details

In the first elimination challenge of the season, the artists must create angel and devil characters.

Episode

1

-

Abstract Aliens

In the season premiere, eight teams of returning All-Star artists create unique alien creatures while incorporating green screen technology for the first time in Face Off history.
Season
10
14 full episodes
Episode

14

-

Sinister Showdown Part 2

In the second part of the season finale, one of the three finalists is crowned the new Face Off champion.

Episode

13

-

Sinister Showdown Part 1

The finalists create makeup for films adapted from a horror anthology collected by none other than famed director and producer Jason Blum.

Episode

12

-

Skull Island: Reign of Kong

The artists are challenged to create an indigenous species that would reside on King Kong's Skull Island.

Episode

11

-

The Art of Warcraft

Characters from the World of Warcraft game come to life by the remaining artists who create realistic characters for the 2016 film adaptation, which stars guest judge Robert Kazinsky.

Episode

10

-

Keep One Eye Open

In this week's challenge, the artists must create a Cyclops character; guest judge Douglas Smith.

The artists must create mischievous genie characters.

Episode

8

-

Smoke and Mirrors

The artists compete in a twisted fantasy challenge.

Episode

7

-

The Gauntlet II

With the return of the Gauntlet, the eight remaining artists compete in a series of three challenges, with the winners of the first two rounds receiving a reward, while the artist on the bottom of the third round is sent packing.

Episode

6

-

Death's Doorstep

The artists create whimsical ghost characters based on unique and comical obituaries.

Episode

5

-

Foreign Bodies

The artists are paired up to create their own parasitic aliens that burst out of their human hosts.

Episode

4

-

Covert Characters

The artist are challenged with creating a realistic disguise makeup for their first individual, Focus Challenge. Super Producer Gale Anne Hurd serves as Guest Judge.

Episode

3

-

Lost Languages

The remaining 12 artists team up to create a member of a long-lost race inspired by unique languages created by "Game of Thrones" linguist David Peterson.

The artists team up to create a whimsical makeup inspired by an oversized toy.

Episode

1

-

Wanted Dead or Alive

In the tenth season premiere, fourteen talented artists are paired up to create alien bounty hunters.
Season
9
14 full episodes
Season
8
14 full episodes
Season
7
16 full episodes
Season
6
15 full episodes
Season
5
15 full episodes
Season
4
11 full episodes
Season
3
12 full episodes
Season
2
10 full episodes
If You Like Face Off, Then Try...
Most Popular Face Off Episodes
Season 11 Episode 4

Snow Queens

2/14/2017

Season 1 Episode 1

Welcome To The Jungle

1/26/2011

Season 11 Episode 5

Troubling Transformations

2/21/2017

Season 11 Episode 3

Monster High

2/07/2017

Season 11 Episode 1

Abstract Aliens

1/24/2017