Watch Fat Actress
Kirstie Alley and two of her friends are talking on her patio about how they can lose weight. Kirstie calls another friend, who is eating a box of tissue and drinking water, and tells her she wants to be a spokesperson for starving kids, but she needs to lose weight in order to do so.
The friend advises Kirstie to go to an underdeveloped country, eat the food, etc. and acquire a parasite. That way when the weight is lost, Kirstie could go back to these countries to be the spokesperson for the children.
Kirstie asks her friend what they would do with the parasite once the weight was lost. The friend says something to the effect of keep it because of the size of her abdomen.
The two friends on the patio having drifted away from Kirstie while she was on the phone and have begun their own conversation. The male friend asks the female friend what Kirstie was talking about. The female friend replies that they are going to die and buries her head in his chest.
Showtime

1 Season,

7

Episodes - Canceled

March 7, 2005

Comedy

10

/
Watch Full Episodes of Fat Actress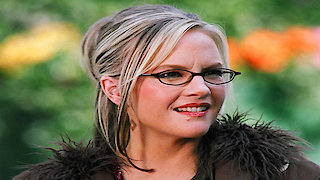 Season 1, Episode 7
Hold This (26:17)
Season 1, Episode 6
Cry Baby McGuire
Season 1, Episode 5
Crack For Good
Season 1, Episode 4
The Koi Effect
Season 1, Episode 3
Holy Lesbo Batman (30:33)
Season 1, Episode 2
Charlie's Angels (30:39)

Fat Actress

Full Episode Guide
Episode

6

-

Cry Baby McGuire

Merv Griffin sets Kirstie up with his wealthy friend, a man with tons of money, and a truckload of emotional baggage.

Episode

5

-

Crack For Good

When Kirstie's drug-addict brother (Christopher McDonald) suggests a new diet measure, smoking crack, her dysfunctional parents intervene.

Episode

4

-

The Koi Effect

Kirstie's latest diet plan suggests that to lose weight she must surround herself with small things. Leah Remini, Wallace Shawn and Mayim Bialik have cameos.

Episode

3

-

Holy Lesbo Batman

Kirstie's attempt to meet No Doubt lead singer Gwen Stefani lands her in jail, where she reconnects with an ex-boyfriend who has a surprise for her.

Episode

2

-

Charlie's Angels

One of the rumors regarding Kirstie's weight gain is that she's having a kid, with Kid Rock (who appears as himself). Elsewhere, she's on a mission to land a role in 'Charlie's Angels III.' Carmen Electra and Melissa Gilbert have cameos.

Zaftig Kirstie Alley (as herself) an overweight performer trying to land a job back on television, attends a pitch meeting with a network honcho (Jeff Zucker, as himself). John Travolta has a cameo. Max: Mark Curry. Quinn: Kelly Preston.