Watch For Better or Worse
The U.S. sitcom For Better or Worse is written and produced by American playwright, actor and director Tyler Perry. In the U.S. two seasons, totaling 45 episodes of For Better or Worse have been produced by Tyler Perry Studios for the TBS network. For Better or Worse is based on the lives of the characters of Marcus and Angela Williams who first appeared in the movies Why Did I Get Married? And Why Did I Get Marries Too? The characters are shown in their affluent home provided by their careers as a salon owner and sports commentator; the lives of Marcus and Angela are shown through their interactions with two other couples. Both original actors from the Why Did I Get Married? series, Tasha Smith and Michael Jai White recreate their performances for the television sitcom.
TBS commissioned a first season of For Better or Worse consisting of ten episodes that premiered in 2011; the season premiere of the sitcom was the top rated basic cable show in the U.S. for the month of November 2011. Despite the mixed critical reviews of the first season a second season was commissioned by TBS that was first aired in 2012.
Tyler Perry has produced a number of television shows for the TBS network revolving around family life in the African American culture. TBS premiered Perry's sitcom's House of Payne and Meet the Brown's before commissioning For Better or Worse. Perry's work outside TV and film includes a large number of stage plays and books; he is known for creating the character of Madea, an ageing African-American woman Perry himself plays in drag.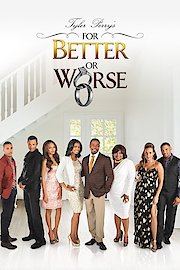 For Better or Worse

Full Episode Guide
Episode

10

-

True Intentions

Angela and Leslie are shocked when Jennifer confesses she has been keeping a secret.

Episode

9

-

Against The Wall

Angela and Jennifer are in disagreement regarding Richard's vulnerable state.

Episode

8

-

Two Turtlenecks

Richard and Jennifer confide in each other and attempt to keep a secret.

Episode

7

-

Fit For A Fling

Marcus' friends question him about his recent neurotic behavior and think it may be linked to his motivation to change.

Episode

6

-

It's A Woman's World

Episode

4

-

Marsha, Marsha, Marsha

Episode

3

-

Tomorrow Is Not Promised

Episode

2

-

Evil Is Knocking
Episode

22

-

Making Him Suffer

Episode

21

-

Richard's Break

Episode

19

-

Trouble with the Feds

Episode

18

-

The Way We Were

Episode

17

-

Don't Ignore the Signs

Episode

16

-

It's Bedtime
Season
3
(2 clips available)
Season
2
(4 clips available)
If You Like For Better or Worse, Then Try...
Most Popular For Better or Worse Episodes