Watch Fox Report
The Fox Report is a American nightly new program that is hosted by Shepard Smith, Harris Faulkner and Julie Banderas and produced by Fox News. The weeknight editions were discontinued as of 2013 and currently only the weekend editions, by Smith and Banderas, persist.
The show follows a quick segment panel analysis format of current and trending events and used to take a somewhat comedic approach to it's material but has since obtained a more solemn tone as of roughly 2007.
The show is Executive produced by Jay Wallace, FNC's Executive producer for all news material.
Like many mainstream broadcast news programs, the Fox Report is broken down into segments which tend to have a specific focus or theme. The particular segments in each episodes include Across America, Around the World in Eighty Seconds, and U Report.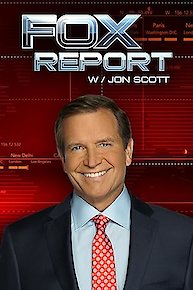 Fox Report

Full Episode Guide
Episode

15

-

George W. Bush: Fighting To The Finis...

President George W. Bush begins the final year of his Presidency.

Episode

14

-

William F. Buckley: Right From The St...

A look at the life of William F. Buckley, leader of one of the most successful intellectual movements in American history

Episode

13

-

Purpose Driven Life: Can Rick Warren ...

He's an evangelical superstar. His runaway best seller has transformed lives. But can Rick Warren's message change hell-on-Earth or has he bitten off more than he can chew?

Episode

12

-

Crime Scene: The Virginia Tech Massac...

FOX News Channel's Greta Van Susteren reports from Virginia Tech, after the largest mass shooting in U.S. history. She investigates the violent mind of student Seung-Hui Cho, and the crime scene where he killed 32 people and himself.

Episode

11

-

Crime Scene: The Amish Schoolhouse Mu...

Episode

10

-

Smoke Screen: Hezbollah Inside Americ...

Episode

9

-

Breaking Point: U.N. Blood Money

Episode

8

-

The Bird Flu: Fact and Fiction

Episode

7

-

On the Road in Iraq with Our Troops a...

Episode

6

-

Two Trillion with a T

Episode

5

-

Do You Know What Textbooks Your Child...

Episode

4

-

The Truth About ACORN

Episode

3

-

Fox News Reporting: Americans Held Ho...

Episode

2

-

Pirates of the 21st Century

Episode

1

-

President Obama: in His Own Words