Watch Free! - Iwatobi Swim Club
Haruka Nanase loves the water. He doesn't care about swimming competitively and only swims freestyle, however when he is in his last year of grade school his friend, Rin Matsuoka, convinces him to compete in a relay with their two other friends, Makoto Tachibana and Hazuki Nagisa. After winning the tournament Rin reveals that he's going to be leaving to study abroad in order to become an Olympic swimmer.
Four years later, when the boys are in high school, they reunite with their old friend Rin only to find that his personality has completely changed. He challenges Haru to a race, ignoring Makoto and Nagisa. Rin wins the race, but instead of being happy he becomes angry, not accepting his victory due to the fact that Haru no longer swims competitively and is out of shape. The next day Nagisa suggests that he, Makoto, and Haru, start a swim club so that they can see Rin, now a swimmer for rival school Samezuka Academy, at tournaments. Nagisa later recruits his classmate Rei Ryugazaki as well.
When Rin learns Haru is competing again he decides to settle things at the next tougnament when both will be in peak condition.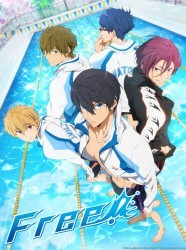 Free! - Iwatobi Swim Club

Full Episode Guide
Season 2
(5 full episodes)
Episode 5 - (Sub) Head-Up of Decision!

Nagisa is acting strange, but he won't tell the other club members why. How will they find out and help him?

Episode 4 - (Sub) Somersault Turn of Promise!

While Samezuka gears up for the prefectural tournament, Gou tries to make sure the boys at Iwatobi are eating nutritionally balanced meals.

Episode 3 - (Sub) Butterfly of Farewell!

Rei's been acting strange since the inter-club relay, and Nagisa and the others try to find out why.

Episode 2 - (Sub) Stroke of Chance Encounter!

While the third years worry about their futures, the Iwatobi Swim Club helps with the grand opening of the Iwatobi SC Returns.

Episode 1 - Storm of Dive and Dash!
Season 1
(12 full episodes)