Watch Gaga by Gaultier
A full length interview of music sensation and cultural juggernaut Lady Gaga by couture designer and fashion icon Jean Paul Gaultier. The two of them are independent minded artists and extreme nonconformists who have admired each others work for years, but are now meeting for the first time as Gaga sits down for an in depth talk about her life, career, inspirations, and artistic vision.
1 Season,

1

Episode - Special Event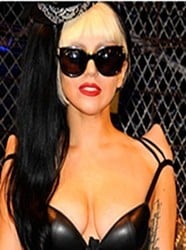 Gaga by Gaultier

Full Episode Guide
Episode 1 - Gaga by Gaultier

In this special Lady Gaga and Jean Paul Gaultier sit down and discuss all things Gaga.
If You Like Gaga by Gaultier, Then Try...
Gaga by Gaultier News
Lady Gaga Unleashes Her Inner Dude in New 'You and I' Pics
Lady Gaga released some new pics to go along with her new single "You and I" and they're...well...really manly. The new pics show Gaga dressed as her male alter-ego Jo Calderone, a gruff, greasy-haired smoker and Sicilian car mechanic who's maybe not the best-lookin' hombre you've ever seen. She released the images via Twitter, along with the message "You will never find what you are looking for in love, if you don't love yourself." It's not the first time the pop culture icon has unleashed her inner dude.