Watch Ghost Stories (2009)
The TV show Ghost Stories follows different people's accounts with the supernatural. It starts out by giving a background of the person and where the encounter happened. Then it goes into the person's recount of what happened and what they saw. Often times, people see very different things under different circumstances. Some see old family, friends while others see strangers they have never seen. Some actually talk with the people who they see, others just see a blob and that is as far as it goes. Either way, hearing their stories is interesting and makes you wonder if the supernatural is real.
Fridays at 10:00 PM et/pt on Travel Channel

1 Season,

15

Episodes - Canceled

October 16, 2009

10

/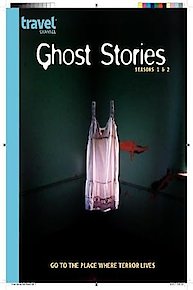 Ghost Stories (2009)

Full Episode Guide
Dr. Edwards' ghost haunts the abandoned hospital where he was killed.

Joel Clough's ghost has been haunting the jail since he was hung in 1833.

Episode

13

-

Sister Katherine

Sister Katherine spirit is still seen wandering the beaches of Galveston.

In New York City's trendy Soho neighborhood you'll find the ghost of Elma Sands. She wanders the Manhattan Bistro restaurant because the well in which she was murdered in 1799 still exists...in the Bistro's basement!

Episode

11

-

Fort Mifflin

Episode

9

-

Villisca Axe Murder House

Episode

8

-

Trans-Alleghany

Episode

7

-

Moundsville Penitentiary

Episode

6

-

Boise Theater

Episode

5

-

Prince Suleyman

Episode

2

-

Sammie Dean (Jerome, AZ)

Episode

1

-

Peter Shields Inn
If You Like Ghost Stories (2009), Then Try...