Watch Gimme a Break!
Series Length:
6 Seasons,

137

Episodes
Description:
The TV show Gimme a Break was a comedy starring Nell Carter. She played the vivacious character Nell Harper. Nell had agreed to be the housekeeper for her friend's family after she became ill and passed away.
The husband of her friend was Police Chief Carl Kanisky. He was raising 3 teenage daughters alone. Nell helped out with the girls by lending an ear and giving them a woman's perspective. Nell and the chief butted heads many times but at the end of the day, they were still family.
The oldest daughter was Katie Kanisky. She was the beautiful blonde but not the brightest Kanisky in the household. Often times, she wouldn't understand something so Nell or her middle sister would have to explain it to her. She eventually opened a boutique but it went out of business.
The middle child was Julie Kanisky. She was the typical brain and loved to show it. Katie was an easy target for Julie. She loved to show how smart she was and usually at Katie's expense.
The youngest of the girls was Samantha Kinisky. She liked to be called Sam. Sam was a tomboy through and through. Climbing trees and playing ball was all in a day's work for Sam. Once she hit her later teens, she then became somewhat boy crazy.
Later in the series, along came little Joey Donovan played by Joey Lawrence. He was an orphan/con-artist that won the hearts of Nell and the whole family. He moved in with them and they were his foster family.
Midway through the series the father dies. It's very tough on the whole family. Not long after that Katie moves away to San Francisco for a job. Julie gets married, has a baby, and her family moves to San Jose. Sam ends up moving to New Jersey to go to college. Nell moves to New York with Joey and her best friend Addy.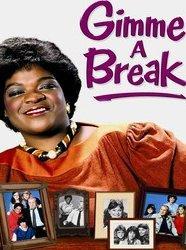 Gimme a Break!

Full Episode Guide
Nell is forced to look at her mother in a whole new light when she finds out that she's dating again. As it turns out, the lucky man is a jazz musician her mother knew long before she decided to get married, and now they're rekindling their romance.

Episode 24 - Someday, My Prince . . .

Nell is wooed by an African man who invented chocolate chip cookies in his African country. She is given a necklace by him, and is given a proposal to be his wife. She tells Addy that they should all move to Africa if she decides to accept his proosal, but in the end she declines it, when he tells her his mother wants him to marry a pure woman who hasnt had sex before. She is however, mad that she gave back the expensive necklace that she was given by him.

Episode 23 - Save the Church

Nell prepares for Mary-Ellen Baldwin's arrival, a snobbish foe of hers from Alabama. She arrives in New York to tell Mama Maybelle along with Nell that she is knocking down the old church to make room for new condos. Mama Maybelle, displeased with the act of fooishness, rejects the check for $5,000 that Mary-Ellen gives her, but Nell wants the money. Mama Maybelle then decides she is going to Alabama to save the church. Once they arrive there, Mama Maybelle goes off to see Mayor Watson about what she can do about the church, as Nell and Joey stay at the Church, as she tells Joey about her father and how he preeched. In the end, she is amazed by her father's memories, and when Mama Maybele returns to tell her there is nothing she can do to save the church, Nell rips up the checks, saying that she will fight for her father's church, evel if she looses. Mama Maybelle is very proud of Nell for once in her life, since she finally made a right decision.

Episode 22 - Parents' Week (2)

Nell tries to convice Samantha to stay in college, and in the end, is successful at doing so. She also is successful at helping a fellow studen of Sam's to both stand up to his father and get his book published.

Episode 21 - Parents' Week (1)

Episode 20 - Joey the Gigolo

Episode 18 - Joey's Teacher

Episode 17 - Joey's First Crush

Episode 16 - The Window (2)

Episode 15 - The Window (1)

Episode 13 - Nell's Secret Admirer

Episode 12 - Christmas in New York

Episode 10 - Joey the Gambler

Episode 9 - Harry the Hamster

Episode 8 - Nell the Boss

Episode 7 - I Love New York

Episode 6 - The Apartment

Episode 5 - Nell Goes Back to New York

Episode 4 - Joey Meets Matthew

Episode 3 - Below Sea Level

Episode 2 - Sam Goes to College (2)

Episode 1 - Sam Goes to College (1)
Episode 24 - The Purse Snatcher

Episode 22 - Katie's Korner

Episode 21 - Getting to Know You

Episode 20 - Family Reunion

Episode 19 - Pride and Prejudice

Episode 18 - A Lesson for Nell

Episode 16 - Bienvenido, Jonathan

Episode 15 - Second Chance (2)

Episode 14 - Second Chance (1)

Episode 12 - Katie's Apartment

Episode 11 - Nell's Gifted Child

Episode 10 - Nell's New Car

Episode 8 - Sam's Little Girl

Episode 6 - So Long, Jonathan

Episode 5 - Addy's Goodbye

Episode 4 - The Man From Zoron

Episode 3 - Ship of Fools (2)

Episode 2 - Ship of Fools (1)
If You Like Gimme a Break!, Then Try...